10 Ways Porch Curtains and Screens Add Value to Your Outdoor Living Spaces
There are few places you can enjoy outdoor living spaces more than here in the Southeast, and one of the best ways to add to the experience is with porch curtains and outdoor screens.
Outdoor living doesn't have to be entirely dependent on the weather. With the right accoutrements, your outdoor spaces can have the versatility you need to stay comfortable in all kinds of weather.
(Under most circumstances … we do recommend taking cover or evacuating during a hurricane!)
There are many ways to enhance your outdoor living spaces, and we've written about several. This post is specifically all about porch curtains, solar screens and insect screens, which add tremendous value.
Here are 10 ways they enhance your outdoor living experience.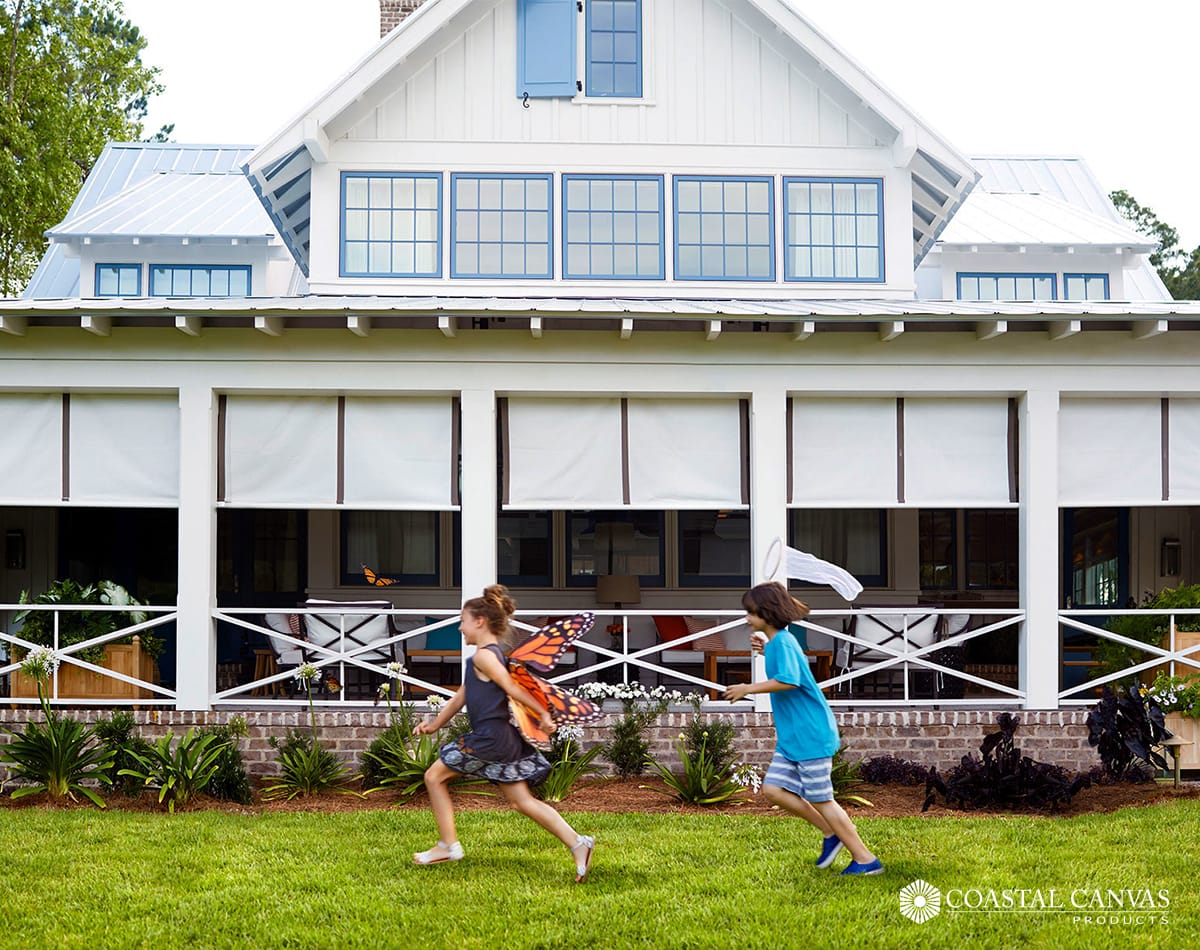 ---
1. Porch Curtains Provide Privacy
One of the most popular reasons people invest in porch curtains is so they can choose to block out the world when desired while still enjoying the outdoors.
You can still enjoy the sounds and smells of the outdoors, the wind as it passes through. If your curtains are made with a translucent material, you can enjoy just the right amount of sunshine as well.
2. Separate Spaces
If you have a large outdoor living area, like a wraparound porch or a multi-level patio, it's nice to be able to separate the area into sections when you want to.
You don't have to put up walls to do it. Porch curtains allow you to create temporary barriers that might be ideal for creating private outdoor spaces:
Intimate, small group gatherings
Some privacy when the extended family is visiting
Setting up play areas for the kids
Outdoor bathing areas
Creating a reading nook
Any time you want to close off a section of the area, it's nice to be able to simply pull the curtain!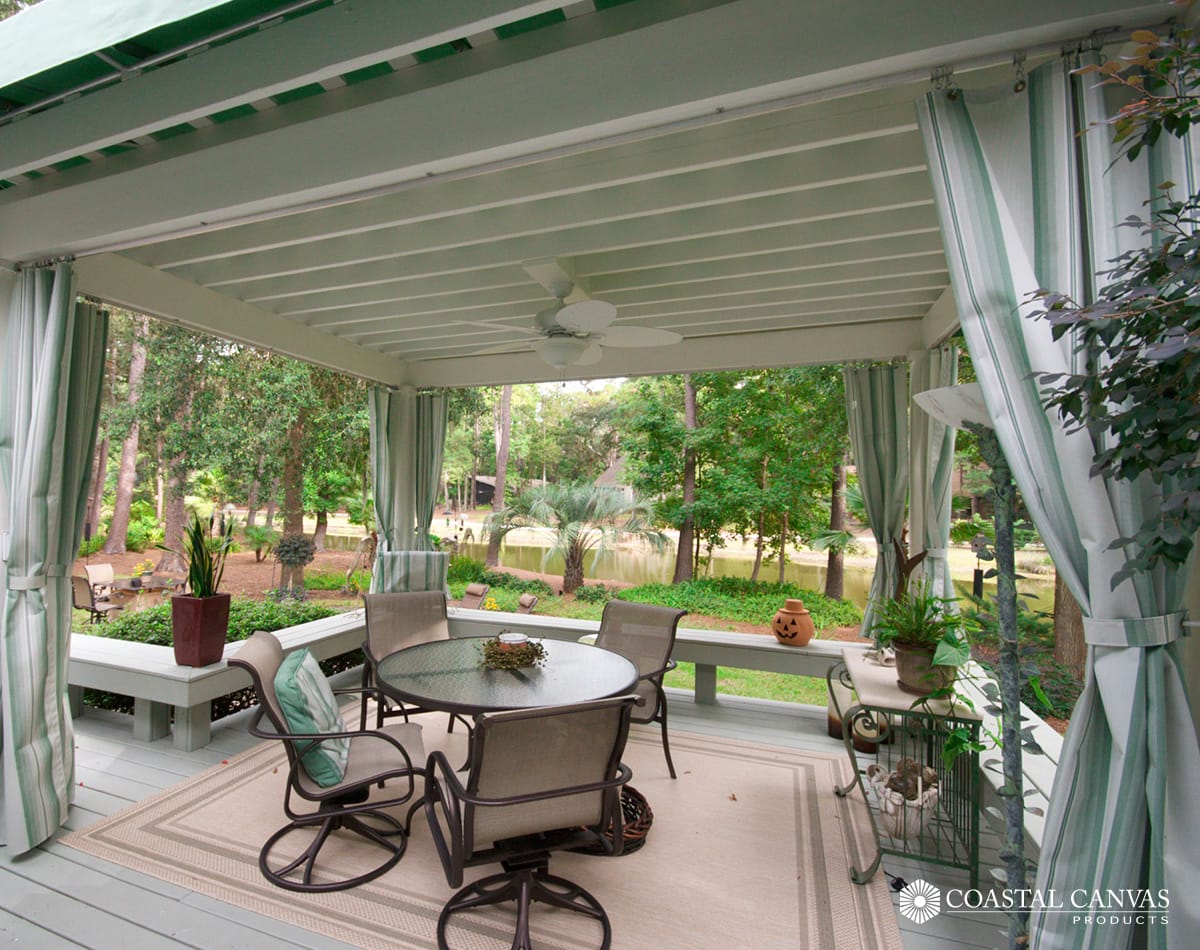 3. Outdoor/Indoor Conversion
You may choose to set up an outdoor living area more like a guest bedroom than a patio, with comfortable outdoor furniture, dressers, end tables, etc. This is a great way to enjoy a cool night, or just "get out of the house" for a while.
If you do offer this "room" to a guest, you will need to be prepared to convert it into more of an indoor space if desired. Vinyl porch curtains are a good way to provide protection against the elements, and adding opaque curtains will help with privacy as well.
4. Vinyl Curtains Are Waterproof
The more you invest in your outdoor space with furniture like chairs, tables, perhaps a daybed, the more protection you will want to provide, especially from rain.
Vinyl curtains provide excellent protection in the event of heavy rain. They can be hung in sheets, but the more convenient option is to have them on overhead rollers. That way, all you have to do is pull them down, make your hot beverage of choice and settle in to watch the rain.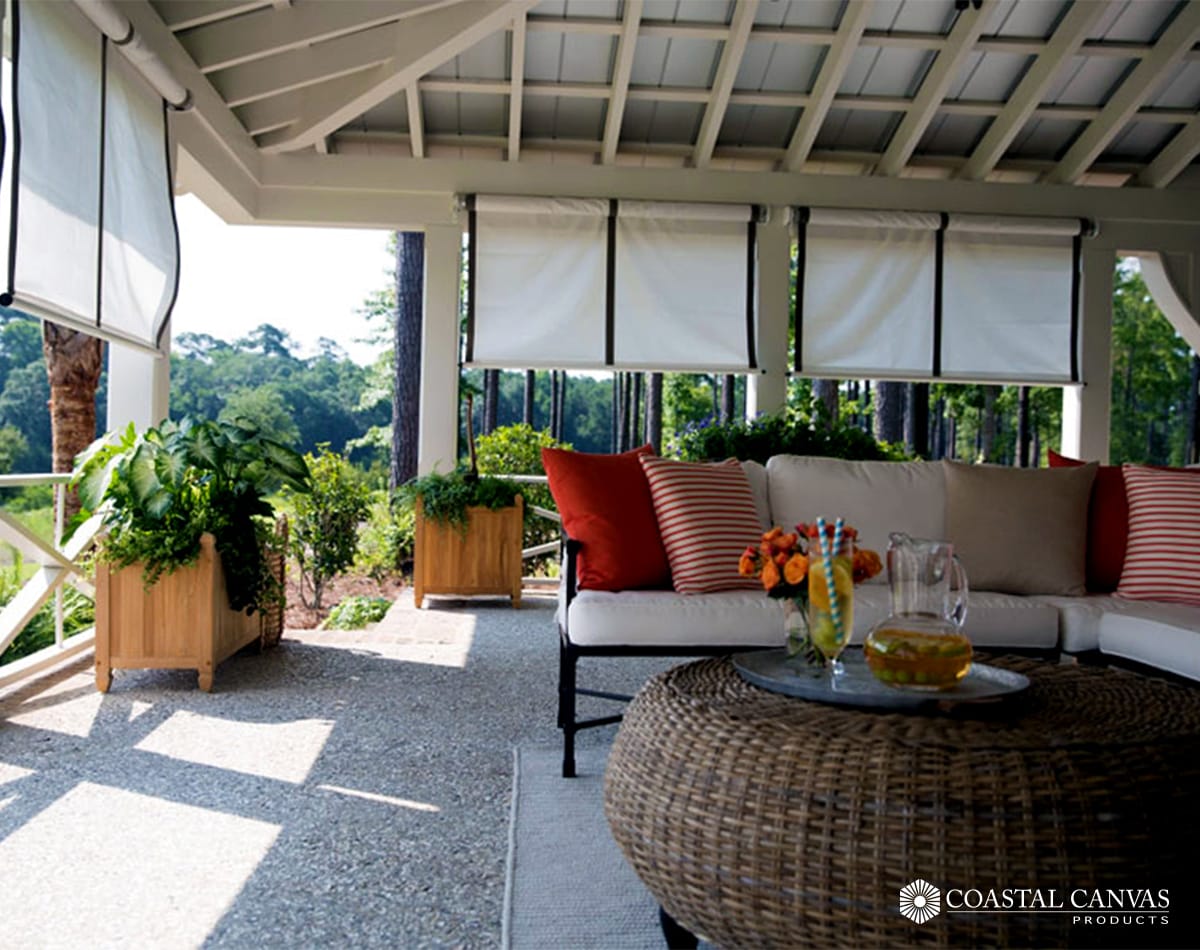 5. Block the Wind
In a perfect world, the wind would only blow hard when the weather was bad or when you felt like flying a kite. But it's not.
Wind isn't the enemy. A breeze can be nice ... but strong coastal winds just make some activities a lot more cumbersome. There will be plenty of times when you will want to be outside, enjoy the sunshine, but the wind is either too strong or too chilly for comfort.
Any curtain, cloth or vinyl, can block a chilling or annoying wind if properly weighted and secured. You'll find this really helpful if you have a fire going, or you're trying to play cards, or struggling to work while fumbling with paperweights.
6. Solar Screening
Protection from the sun is one of the most important reasons to think about outdoor solar screens, either as your porch curtain solution or supplement to cloth curtains.
There are two important reasons for this:
Protection for you. UV rays can be extremely damaging to the skin, causing issues ranging from painful sunburn to cancer.
Protection for your furniture. Those same rays will cause surface damage that fades paint, wood finish and cloth.
An awning is a good start for solar protection, but remember that UV rays are hitting your outdoor living spaces from all angles throughout the day. Solar screens provide the added protection you need.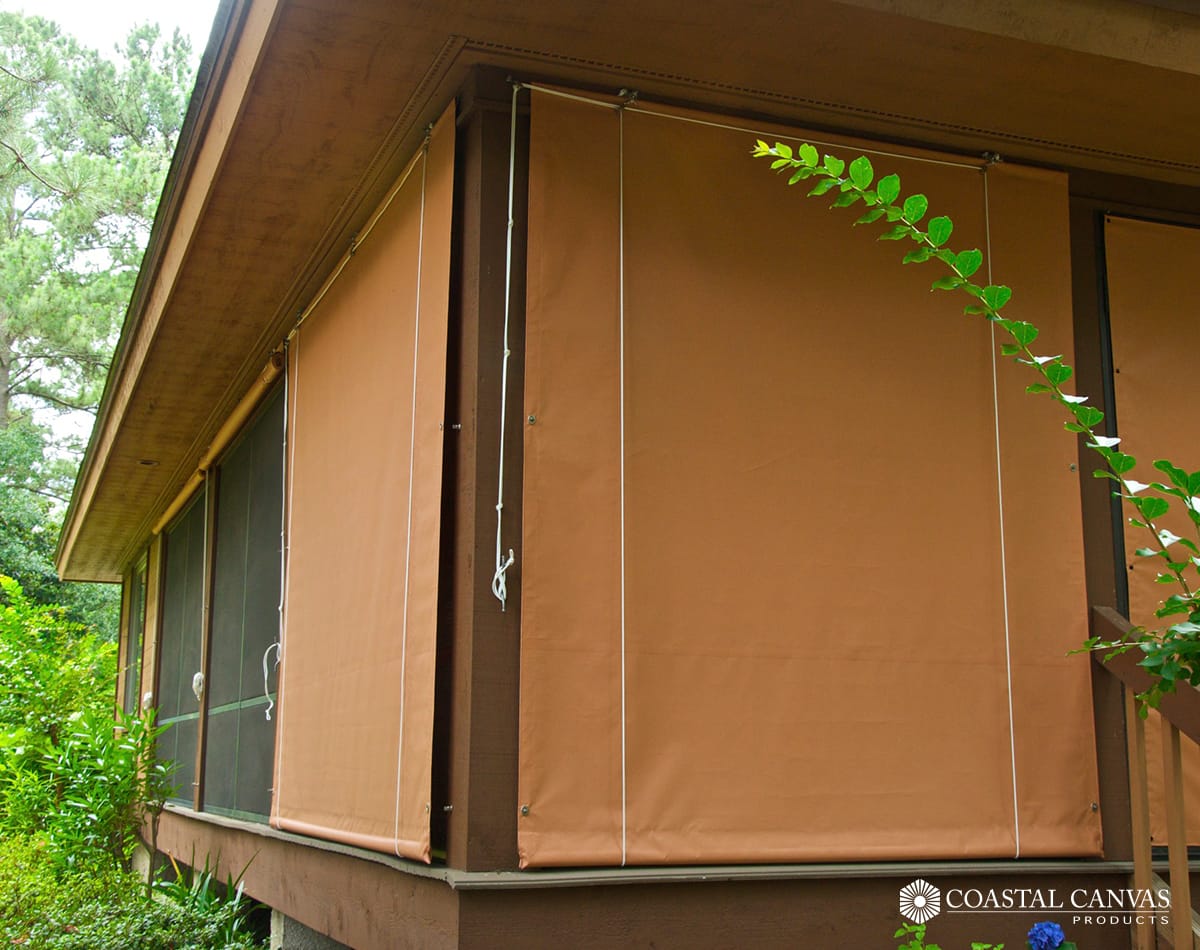 7. Screen Out Insects
Insects like mosquitoes aren't just annoying. They can make you sick. They carry diseases like the West Nile virus, which can cause fever, headache, skin rash and swollen lymph glands, or the Zika virus, which can cause birth defects if pregnant women are infected.
Given the world is going through the COVID-19 pandemic at the time we're writing this, it's especially important to avoid additional health risks. A simple mesh insect screen as part of your porch curtain plan provides all the protection you need from pesky and dangerous bugs.
8. Heating with Vinyl Curtains
On cooler evenings when you still want to enjoy the outdoors, you may want to enjoy a fire in your patio firepit. The trouble is, it may be too chilly for everyone to be comfortable.
In those circumstances, vinyl porch curtains are ideal. They provide sufficient insulation to slow heat loss. Coverage can be so seamless that you could even open the doors and allow the interior heat out into the insulated space.
9. Porch Curtains Provide Decor
Let's not forget that porch curtains just look nice! They are a great touch that makes being in your outdoor living space more enjoyable.
They also really amp up your home's curb appeal, which you'll appreciate when it comes time to sell. Buyers will be drawn into the lifestyle your porch curtains represent.
10. Projecting Movies
If you choose to go with a tighty-woven mesh or blackout screen for your porch or patio enclosure, there's an added benefit. It doubles as a projection screen!
Outdoor movie night is always a hit. Using your screens this way seriously adds to the appeal of your outdoor living space for your whole family.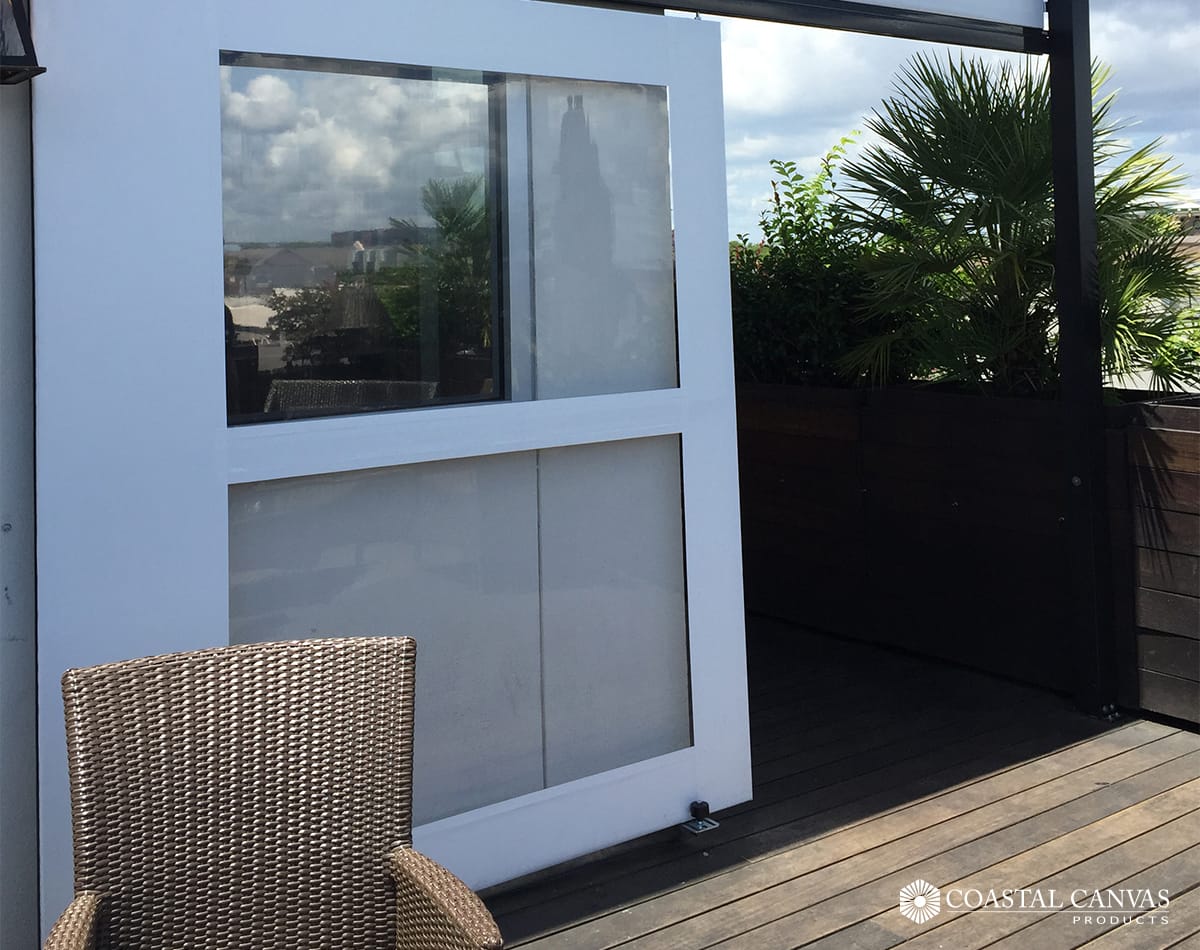 Invest in Your Outdoor Living Spaces
At Coastal Canvas, we see ourselves as more than awning manufacturers. We are outdoor lifestyle consultants. That's what porch curtains and outdoor screens are all about: an ideal lifestyle.
Why live in this beautiful part of the country if you're not going to make the most of outdoor living? Everywhere you look, from St. Simon's Island to Hilton Head, Savannah to Okatie, and everywhere in between, people want to live outdoors as much as possible.
We want to help you enjoy coastal living to the fullest! Contact us today to schedule your free consultation.
"This shade will protect my front doors from damaging sunlight for a long time, thank you!" - Lasker Residence
"Very pleased with the product and your high quality of service." - Schoolcraft Residence
Coastal Canvas serves these and surrounding areas:
Savannah, GA
Hilton Head Island, SC
Bluffton, SC
Palmetto Bluff
Beaufort, SC
Richmond Hill, GA
St. Simon's Island, GA
---
A Note About COVID-19:
Coastal Canvas Products is deeply moved by the COVID-19 pandemic, and we are acutely aware of the impact that it has had on all of our lives. We are committed to our customers and their deadline commitments, and are therefore working with a minimal on-site staff to keep production moving forward on all orders. We are insistent upon safe practices, repeated hand washing and social distancing at all times.
For some good news, we are proud to say that we are donating our time and equipment to manufacture PPE for medical workers on the front lines and are so happy that we can serve our country in this way. We will get through this together!
- Andrew and Ellen Barber, Owners of Coastal Canvas