How Do I Choose Awnings for My Restaurant? 6 Decisions to Make on Commercial Awnings
When you buy a building for a restaurant, commercial awnings aren't necessarily the first thing you think about.
Your mind is on the menu. The ambiance you want to create. What hours you'll be open - whether you want to be known as a brunch nook or a great place for a dinner date. All that fun stuff.
But you know you have to think about the business side of it all. On the top of your list is likely the big question: How are you going to drive foot traffic? And what about the building might be working against you?
Then you see it. Something has got to be done about the exterior presentation.
That's when you realize how important commercial awnings are! Whether you're replacing the old or installing for the first time, here's a quick, six-step guide to selecting your restaurant awnings.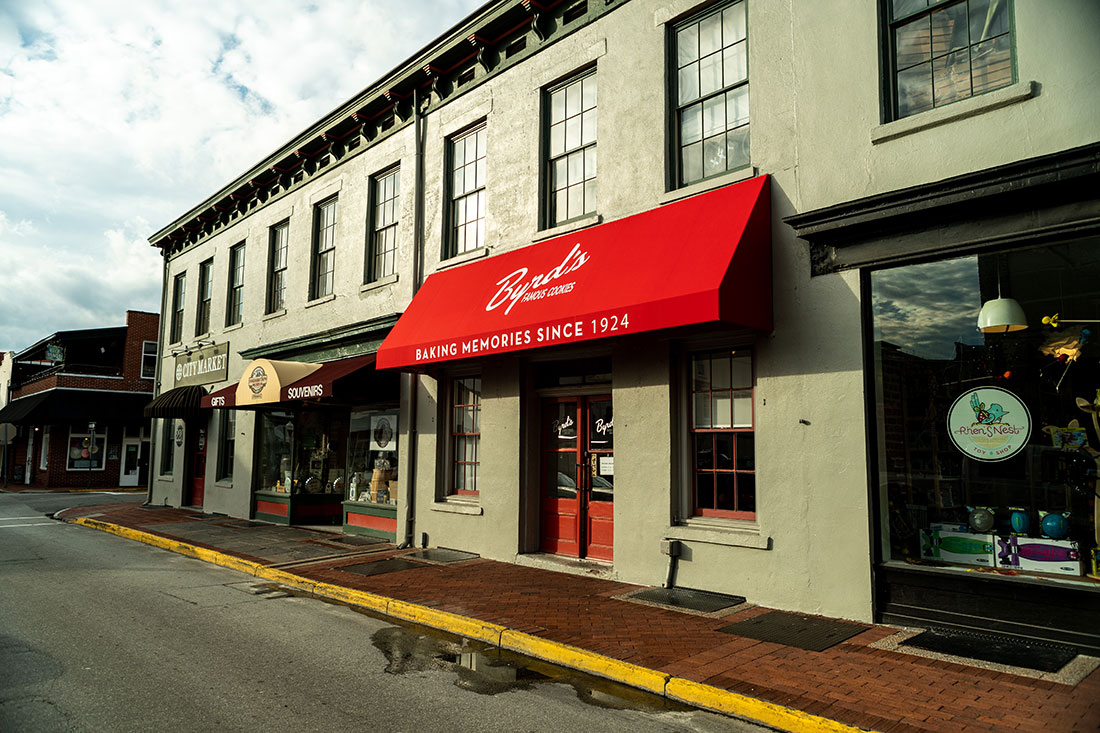 ---
1. Size
A good place to start is to think about what size your restaurant awnings need to be. To determine this, first think about what type of area you'll be protecting.
Doorway Awnings
If your interest is mostly in covering windows and the front door area, start by picturing a big group - a large family of 10, maybe - entering your restaurant in the rain. Make sure it's large enough to cover everybody as they make a bottleneck trying to get dry!
Seating Areas
If you plan to have outdoor seating, you'll want to cover a much larger area. Awnings should extend a good length beyond your tables. Nobody likes a fine drizzle wetting their elbows every time the breeze picks up. Or sunburned elbows, for that matter.
Walking Areas
It's always a nice touch to be covered not only when standing at the door, but while you're on your way in as well. Especially for your more upscale establishments.
Awnings for walking areas - from a valet stand to the front door, for instance - should comfortably accommodate two or three people walking abreast with plenty of space besides.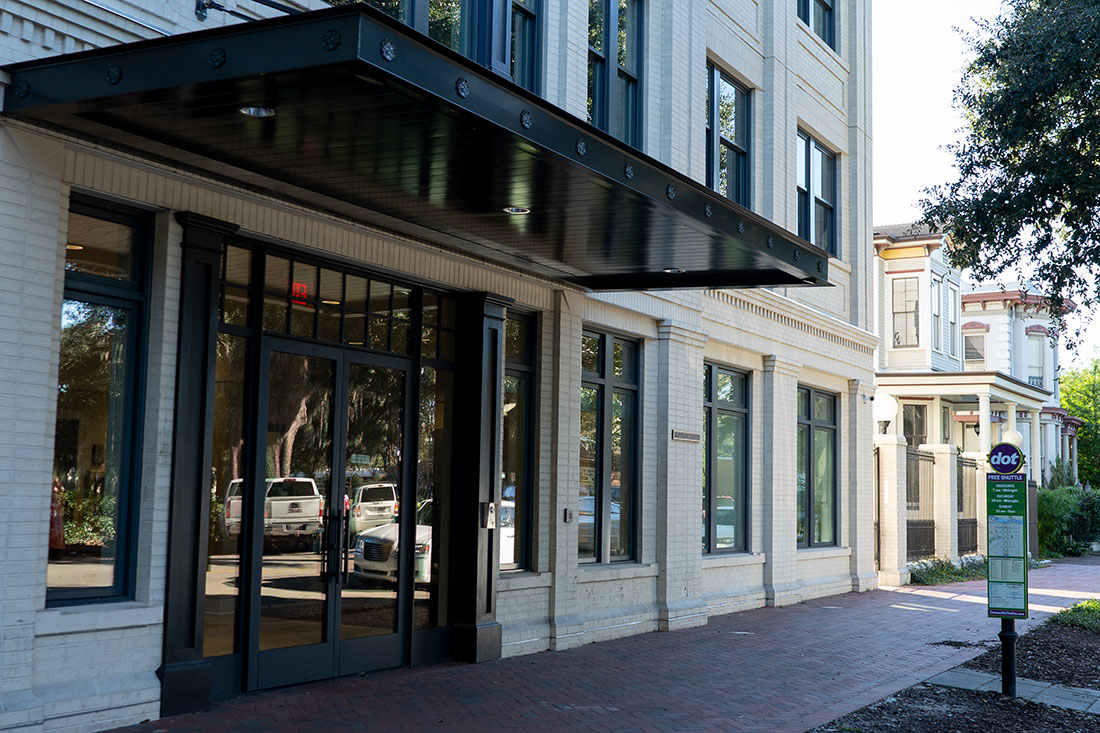 2. Style
What kind of restaurant is it?
Perfect for family dining or a romantic encounter? Moderately priced meals or fine cuisine? Like every other aspect of design, your restaurant awnings should reflect what patrons can expect.
You may have great design instincts. Don't ignore them. But don't rely on your personal aesthetic entirely, either. It's always a good idea to look at similar restaurants and decide how closely you want to model yours after theirs. Most patrons like to have some idea what to expect.
Check out our examples of awning styles, or shapes for canvas awnings, to get an idea of how to identify a standard vs. flat panel, "the waterfall" vs. longdome styles. You may also decide to go with a more modern metal awning based on competitor research. More on that below.
3. Material: Fabric vs. Metal
There are two primary factors to consider when deciding whether to go with canvas awnings or metal canopies for your restaurant: aesthetics and protection.
Canvas Awnings: Traditional Aesthetic & Protection
If you're going for old-world charm, it may make the most sense to look at canvas awnings. Your Italian or French country cuisine may pair best with awnings that transport patrons to the past. But it's just for show, of course. Modern canvas is far tougher than pure, old-world cotton.
Metal Awnings: Modern Look & Extra Protection
Many newer restaurants, from sports bars to Mexican fine dining to Asian fusion and everything in between, are choosing the sleek, modern look of metal awnings. It certainly doesn't hurt that they provide extra protection against the elements and last for a lifetime.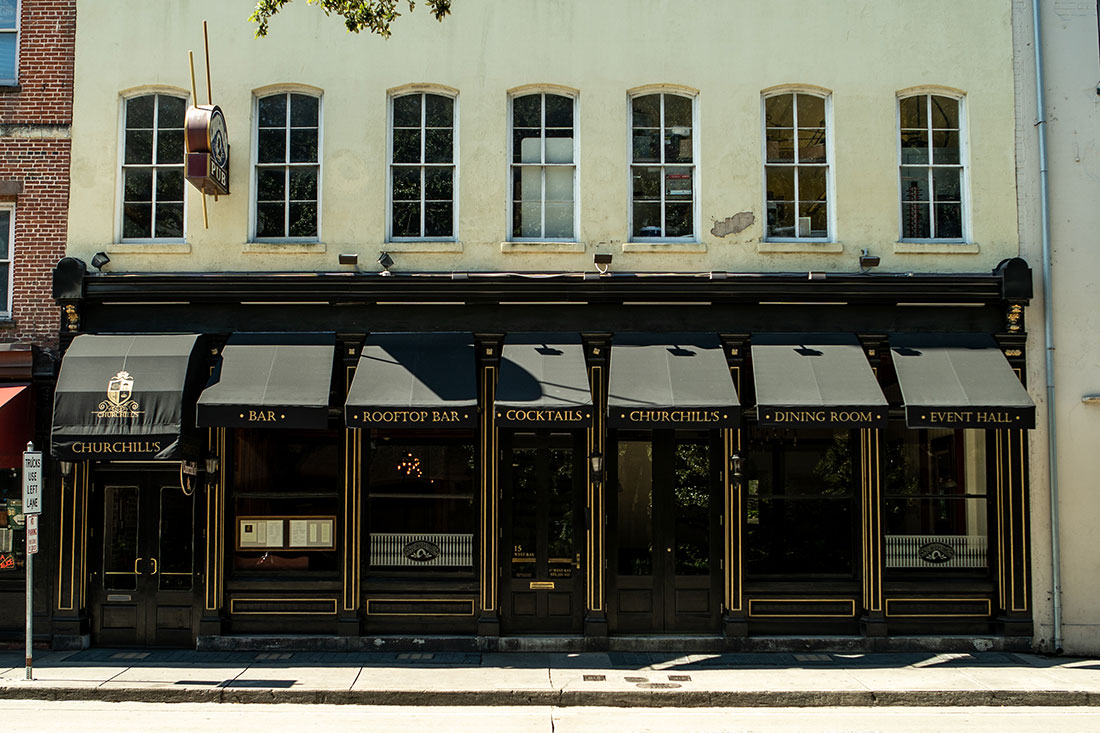 4. Function: Retractable Awnings vs. Fixed
Consider again what your restaurant awnings are going to be protecting.
If it's an outdoor seating area, will your patrons always want to be covered? If you're covering windows, will they always want their view from inside to be shaded?
Fixed Awnings
You may decide adjustability isn't a major concern. Maybe the view outside isn't ideal because you're not as pleased with the view beyond the property as you'd like to be. Or you consider it a blessing that your awnings are blocking the view of a set of overhead power lines.
Retractable Awnings
But you may also want to have the option to let the sun shine on your seating areas, especially on cooler days when full sun is welcome, or partly-sunny days when it's not too bright.
And letting the sun shine in through the windows at times might have more benefits than just being pleasing to the eye. Passive solar heat can actually save on your heating bills in the winter. (Alternately, shading in the spring and summer can save on the cost of air conditioning.)
You get that versatility only with retractable awnings. With a simple crank mechanism, or push of a button when motorized, you can easily decide from day to day whether it will be better for business to shade or not to shade your guests. That control can be a great business advantage.
5. Branding and Signage
How much marketing power do you want to get out of your new commercial awnings?
There should be little question in your mind that your restaurant will benefit if your logo is prominently displayed. But you should also consider how your awnings fit into your broader branding efforts.
Awnings + Graphics Printing
Your logo can be incorporated directly into your custom-made awnings. If you're going with canvas, Sunbrella Graphic System (SGS) machines* can print vinyl graphics - logos, text, images - directly onto the fabric. Vinyl graphics work well on metal as well.
Additional Signage
As long as you're reinforcing your brand by prominently displaying your logo on your awnings, you can create a deeper brand impression (more sightings = more top of mind awareness) with supplemental signage:
Roadside waypointing
Parking signs
Hanging signs
Window branding
Sandwich boards
Exterior menus
Daily specials
Restroom markers
There are many other great examples of how you can think beyond the awning and engage in some impressive, cohesive branding. The more they engage with your brand, the more impressed your guests will be, and the more likely they will be to return.
(*Not to brag, but we just happen to have one of the largest SGS machines in the southeast U.S. here in Savannah, GA ... Okay, maybe we're bragging a little.)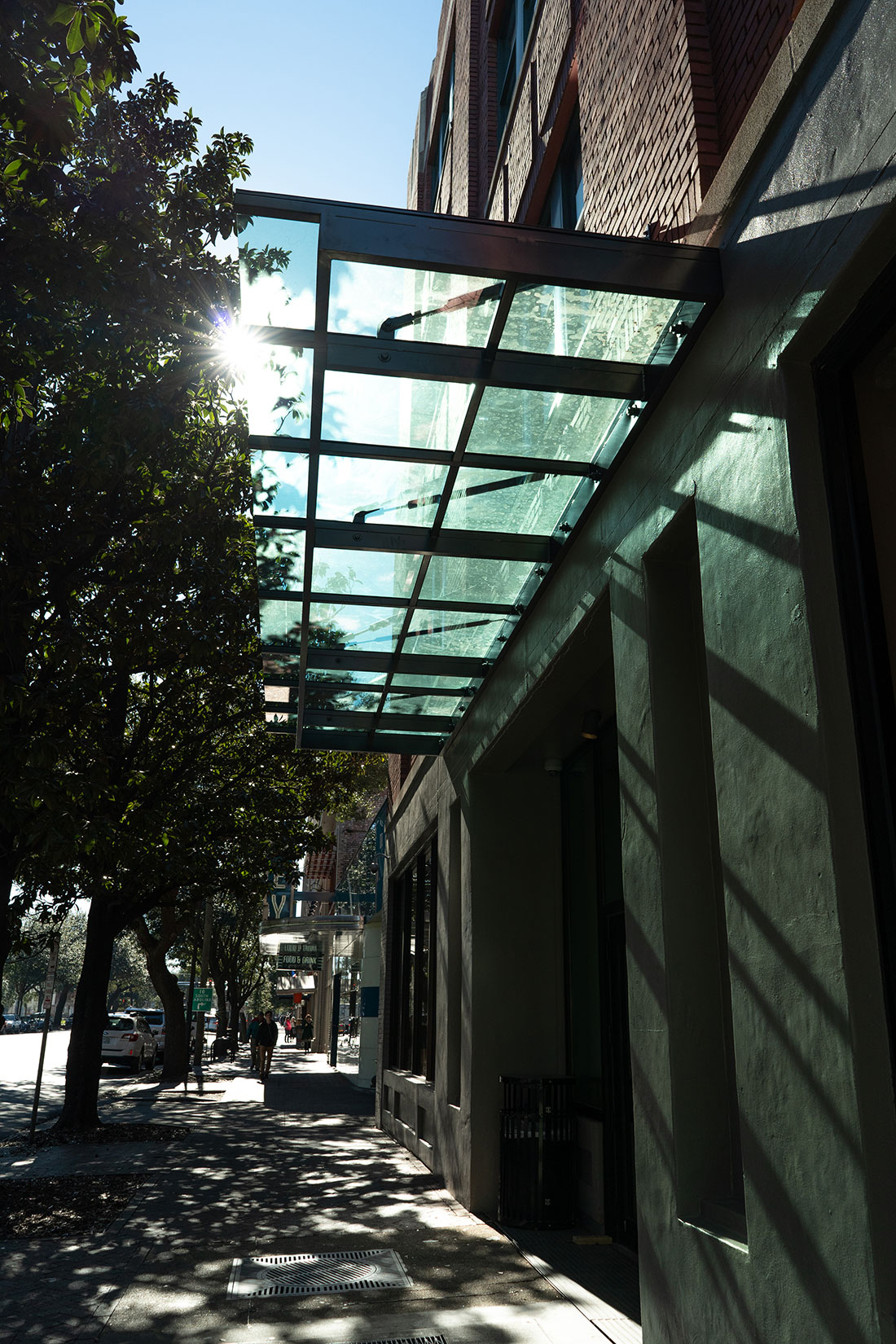 6. Add-ons
But wait, there's more! In addition to branding, you can also think of your commercial awnings as the roof over a host of ideas to enhance the outdoor experience for guests.
Lighting
LED lights can be safely installed beneath your awnings to make your storefront more inviting at night. Install them with various brightness options you can adjust to suit the mood.
Speakers
Awnings are great for hiding speaker systems. You can deliver the perfect music to create your desired ambiance, seemingly from nowhere.
Fans and Heaters
These are great for outdoor dining, but also for making sure your guests are as comfortable as possible while waiting for a table. Outdoor temperature control is a great way to ease the wait.
Retractable Panels
If you want to further improve the outdoor experience, you might consider adding permeable panels or screens to your awnings to provide further protection from the elements.
---
Commercial Awnings and Restaurants: A Perfect Couple
When you really think through the experience you want your guests to have when they come to your restaurant, it's clear how much of an impact commercial awnings can make!
From selecting materials to drawing up floor plans, helping you with design, branding and installing your restaurant awnings, we're all over it here at Coastal Canvas.
Ready to bring on the guests? Talk to us today!
Opening your restaurant in one of the areas listed below or anywhere nearby? Click the link above and get your free estimate from Coastal Canvas!
Savannah, GA
Hilton Head Island, SC
Bluffton, SC
Palmetto Bluff
Beaufort, SC
Richmond Hill, GA
St. Simon's Island, GA
"Looks wonderful - everyone is happy!" - Lady & Sons Restaurant, Savannah