How Much Do Retractable Awnings Cost?
Looking for retractable awnings for your home or business? Great choice! The ability to easily extend or retract your awnings make this an attractive option.
Of course, you naturally have one burning question:
How much does it cost?
The answer, as you'll find any time you research a customizable product online is: it depends.
There are so many factors that go into the cost that you could end up anywhere from $20 per square foot to $50 per square foot.
That may be disappointing. It's not exactly the simple answer you were hoping for! But at least we can explain a bit about what goes into pricing. That way you'll feel more informed as you seek estimates on retractable awnings.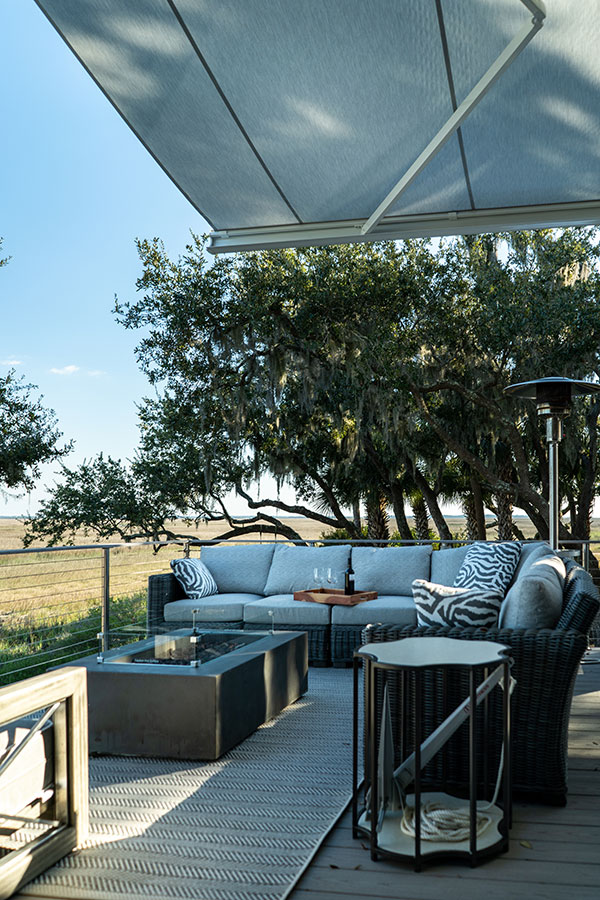 ---
Here are some common questions we apply to the estimate process.
What are the material options for retractable awnings?
Retractable awnings can be made with a variety of materials, from steel or aluminum frames with a variety of fabrics including vinyl, coated canvas or mesh.
While your choice in materials has an effect on cost, it's the appropriate application that should drive your decision.
Vinyl fabric is strong and waterproof. It is ideal for applications where your main goal is to keep everyone dry, whether from rain or the splash of pool water. It provides great UV protection, resists mildew growth and is easy to clean.
Modern canvas is breathable and water-resistant. Made from woven acrylic, polyester or blends of acrylic polyester and cotton, canvas is available in a wider variety of colors than vinyl and also provides UV protection.
Hybrid fabrics combine beauty with durability. They combine the durability of vinyl with the look and feel of canvas, giving you the best qualities of both.
Mesh fabric is highly breathable and provides UV protection. If letting through just the right amount of light is your main goal, mesh may be the ideal solution.
The next step is to determine how much material we need for the project. We need to determine the size of your retractable awning and build our designs from there.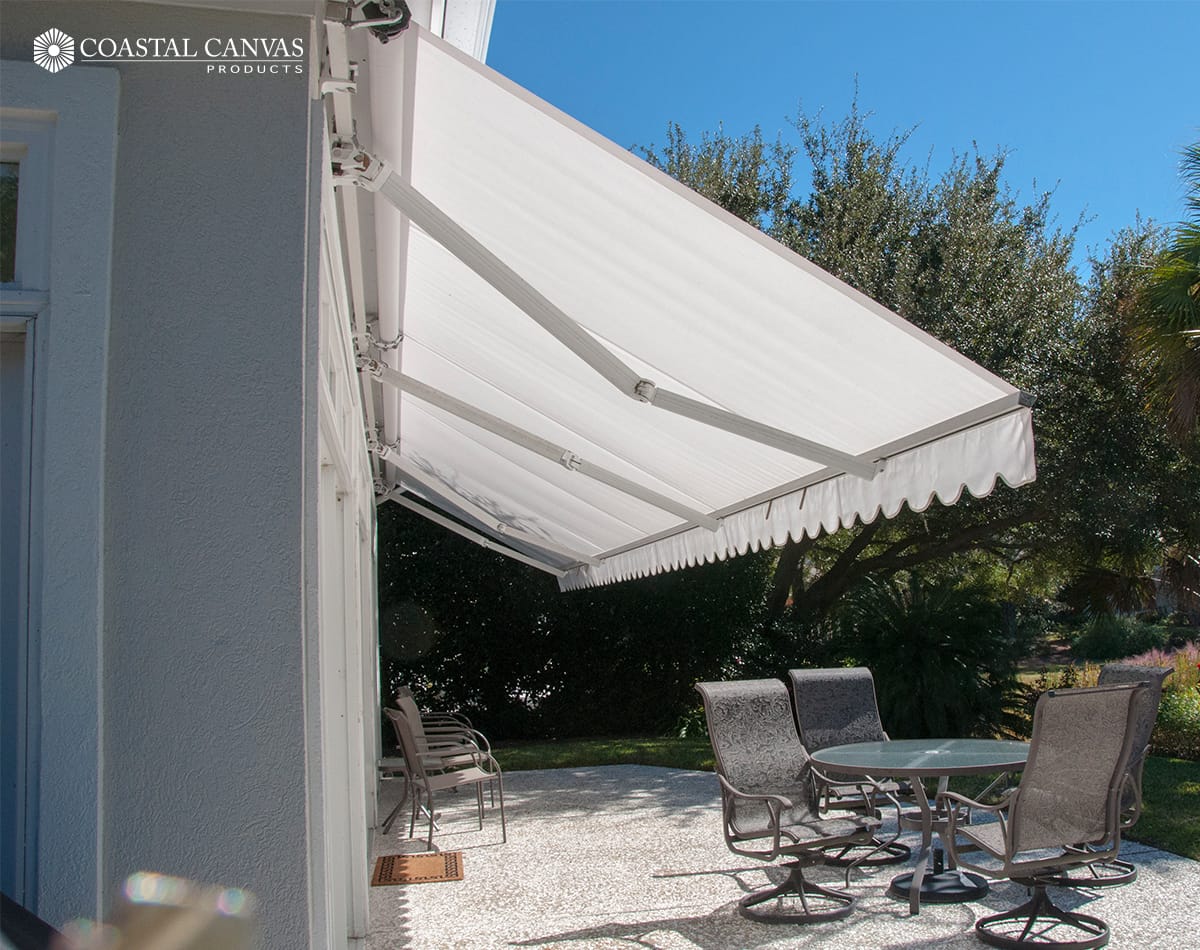 What design style should I choose?
After selecting your materials, the next factor that affects cost is which of several retractable awning styles you choose.
These come in a variety of shapes from the traditional 45-degree downward angle with a bit of hanging, frilled trim, to a flat panel with no trim, a dome, concave shape, and several other possibilities. The complexity of the shape also factors into cost.
See a list of common awning shapes here.
How tough do my retractable awnings need to be?
That depends on where you want to install them and which of the above styles you choose.
The "where" is not just about geography. Anyone in our service area - whether the beautiful communities of Palmetto Bluff, Hilton Head Island, Savannah, St. Simon's Island or surrounding areas - has to be prepared for hurricane-force winds.
There are other considerations:
An awning installed in an open area where there is going to be a lot of foot traffic (as opposed to, say, a back door in an alley) needs special consideration for safety.
As does an awning made with fabric that high wind buffets rather than permeates. (Wind would permeate a mesh awning and therefore pose less of a threat).
Due to these factors, it may be wise to fortify some retractable awnings with additional supports such as steel posts and other measures.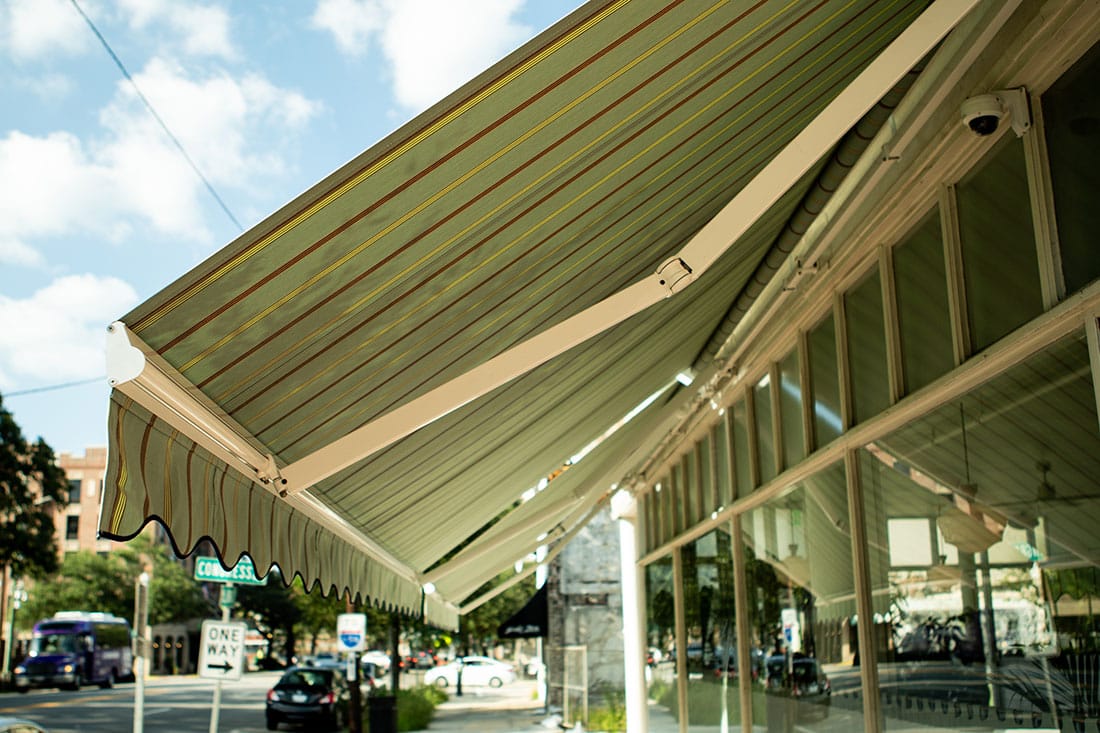 How much does labor add to the cost of my retractable awnings?
This question sometimes implies another: "Can I just install it myself?"
Let's answer that one first. In most cases, you should not attempt the installation yourself.
The Value of Professional Installation
Installers like our people at Coastal Canvas specialize in retractable awning installation. We can do it faster, ensure beauty, durability, code compliance and your safety. Installation as part of the cost is almost always a given.
A significant portion of your cost per square foot is in knowing your retractable awnings are going to stay up, operate smoothly and remain operable for years to come. Skilled, specialized, warranty-backed installation is easily the most important investment you'll make.
What Affects Labor Cost
Labor cost is affected by the local market. Here in the Savannah area, in surrounding communities like Richmond Hill, GA and Bluffton, SC, labor cost is reasonable compared to the rest of the U.S.
The location of the job also affects labor cost. How far (and how much) material and what equipment needs to be shipped to the job site are also significant factors.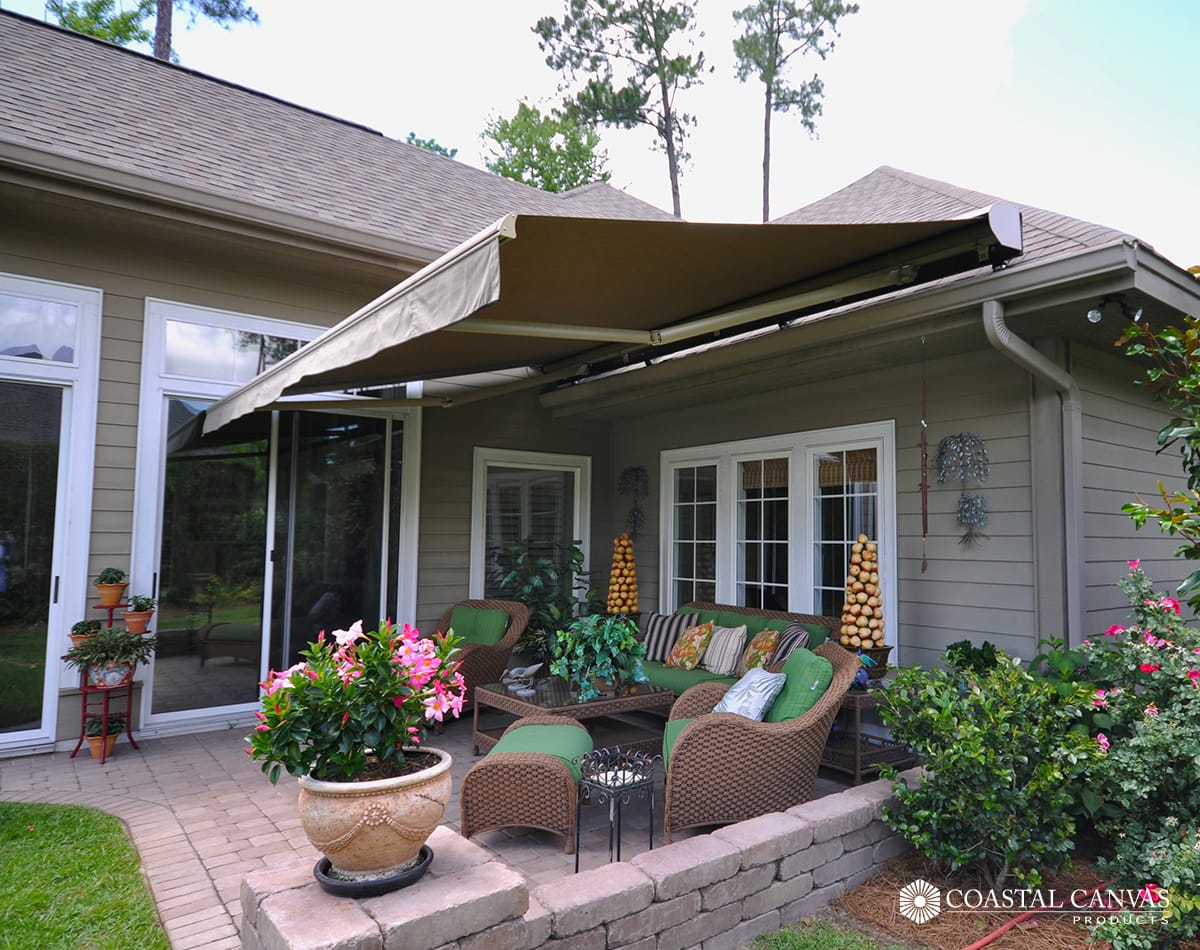 We Quote Retractable Awnings the Old-Fashioned Way
We hope this article has been helpful to you as you begin to research custom retractable awning installation.
You may have noticed we did not include a cost calculator tool. Why not? Because none of them beats the accuracy you get from a free consultation with a firm experienced in fabrication, design, finishing, and installation.
Request an estimate for retractable awnings from Coastal Canvas today. We'd love to give you an accurate answer about cost based on your specific needs.
We call it quoting the old-fashioned way. And we stand by it.
See you soon!
---
"Your estimates are what it will cost - no add-ons or extras. We knew before our job began as to exactly what the cost would be. Also the work was done precisely and on time - we thank you!"
- Don & Carol Arpin
Coastal Canvas serves these and surrounding areas:
Savannah, GA
Hilton Head Island, SC
Bluffton, SC
Palmetto Bluff
Beaufort, SC
Richmond Hill, GA
St. Simon's Island, GA