How to Bring in More Guests with Hotel Awnings: Commercial Awnings in Hospitality
Has your hotel always looked a little bare to you? Or does it seem a bit worse for wear? The condition of your commercial awnings - or lack of them - has a major impact on the look of your establishment.
Hotels and other hospitality businesses lack key benefits without awnings and tend to look naked besides. And old awnings that are dirty, tattered or chipped with age tend to make guests feel like they should go somewhere nicer next time.
So it's time to invest in new hotel awnings. But how do you go about deciding where to put them? Or what sizes and styles? Read on for our tips on selecting commercial awnings.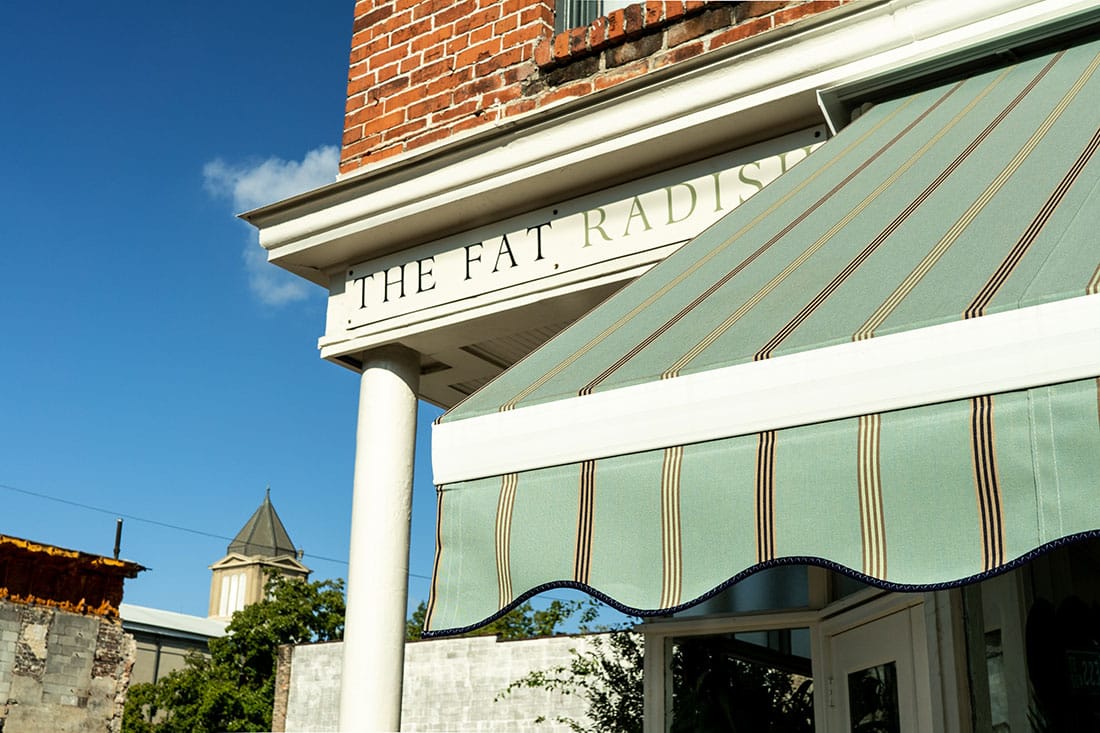 ---
Where to Install Your Hotel Awnings
The entranceway is a great place to start. As the hospitality advisors at eHotelier.com point out, even an entrance with attractive plants, vibrant color on the doorway trim and practical lighting is still missing a key element:
"Providing shelter for guests as they approach the entrance of your hotel is a must. Whether it's during the wet and cold rainy months or hot and sunny summer months, guests need a place to arrange their luggage, wait for transportation, or simply shake off the rain before they enter the hotel."
An entrance awning is not only functional, it's an eye-catching design element. Other places to consider installing awnings for function and design impact include:
Windows. Guests want to be able to open their curtains and not be bombarded by full sun. They also want to be able to open the windows to let in the fresh air on days with light rain. Awnings provide the shade and shelter guests expect.
Drive-up. Beyond shelter for foot traffic to the entrance, large awnings make a welcome addition anywhere cars can drive up to the building. Whether that's in the front, rear or side entrances, the more shelter you can provide guests and their luggage, the better.
Patio. Awnings make your patio areas much more inviting, especially on hot, sunny days. You want to provide a generous amount of shade as a respite from sun-drenched areas, and make sure that's clearly represented in your promotional photography.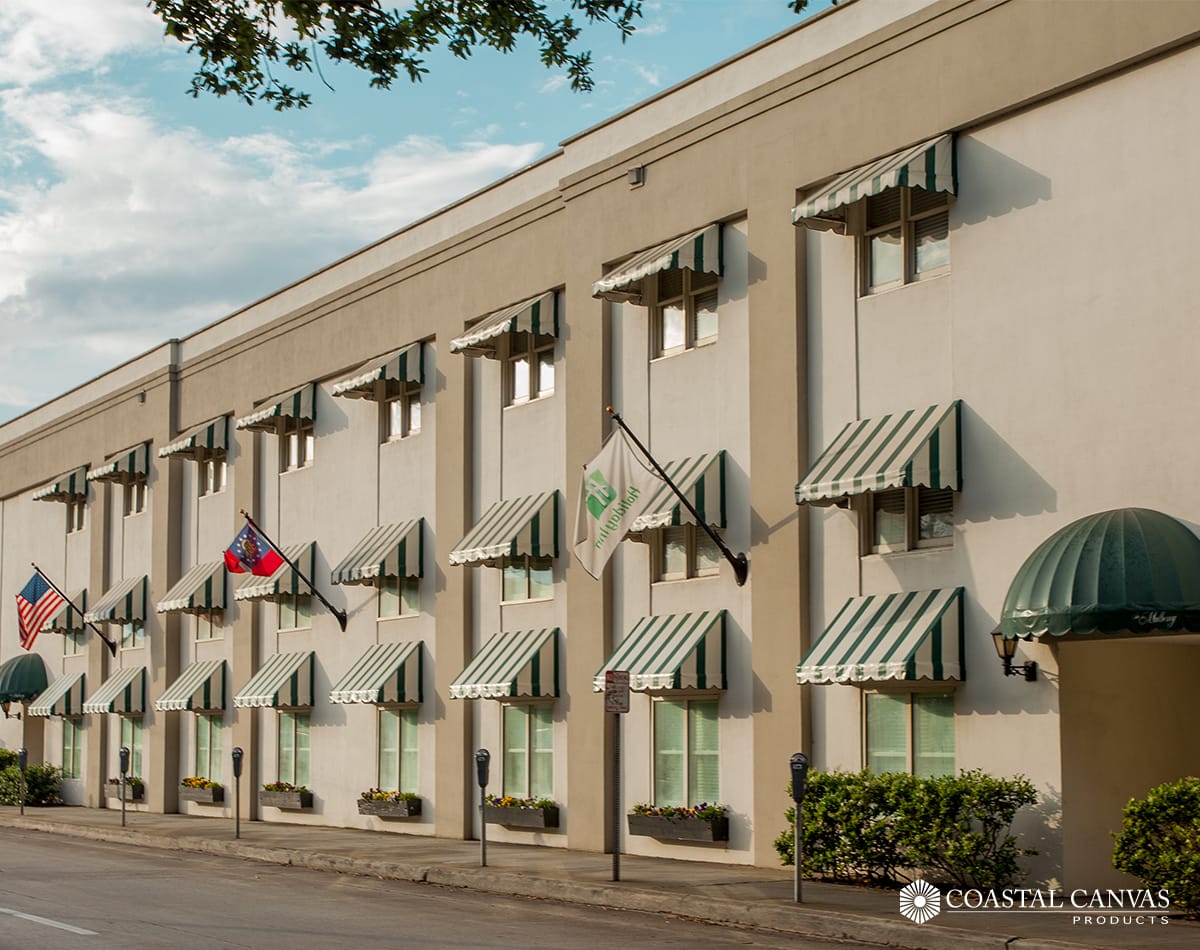 Styles of Commercial Awnings
When talking about the "style" of your awnings, we may be referring to the size, or the shape, the surface design, or all of the above.
Size and Shape
Size and shape are intimately related. The larger an area you need to cover, or the higher the construction, the more support we need to build under and around it.
Certain shapes are flatter and help minimize the amount of support needed. Others that are meant to draw the eye upward are often best for hugging the wall around a small entranceway or window covering.
Something like a standard, flat panel or pyramid shape might make the most sense to cover a large drive-up area, while a dome or waterfall shape may be better for smaller walk-up spaces. Check out our shape guide to see what we're talking about.
Color and Branding
The surface design is about color and branding. What fits your brand best? One solid color or multicolor stripes? And where will you incorporate your logo or other signage?
While you don't want to go overboard with branding (it usually isn't necessary for your logo to be visible on every single window awning), it is a good idea to incorporate it at least in your entranceway awning design. Choose your color palette wisely to stay in-brand.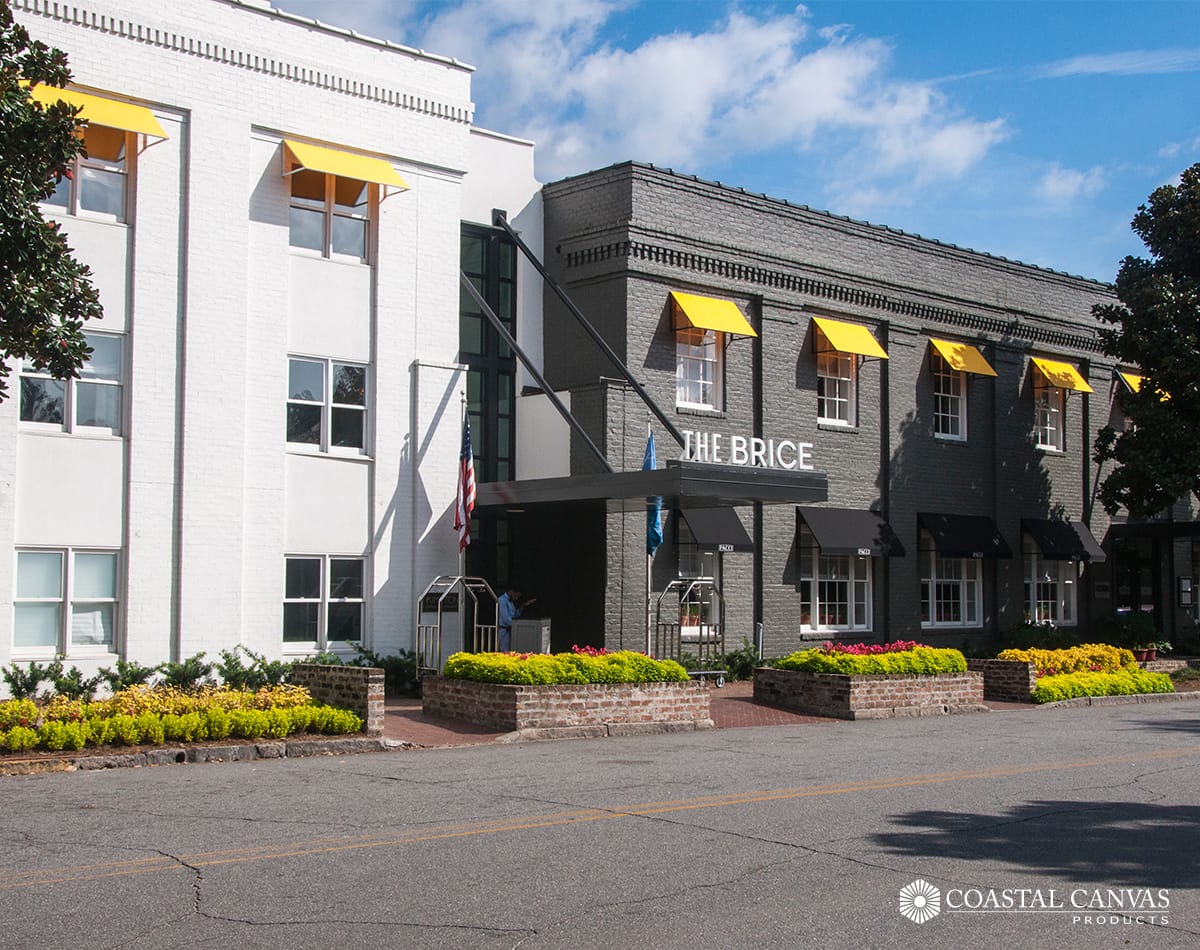 Canvas vs. Metal Awnings for Hospitality
One way to determine whether canvas or metal awnings are best for your hospitality business is to ask: Which is the better fit for the character of my business?
Classic vs. Modern
In general, canvas awnings give a hotel a classic look while metal awnings have a sleeker, more modern appearance. That doesn't mean you can't uphold a modern brand with a classic touch, or vice-versa. But it's worth thinking through this design consideration.
Function and Durability
Another factor is function: what you want your awning to do, or what you want to build into it. If a simple awning is all you want, you could go either way. But if you plan to install lights and/or speakers, the durability of a metal awning may be best.
You may also be considering retractable awnings for some parts of your hotel, perhaps the patio area or windows. Our retractable awnings are canvas with retractable aluminum supports, while metal awnings or canopies are static.
Maintenance
Another factor to consider is maintenance. Modern canvas awnings are fairly easy to clean, as are powder-coated metallic awnings. But you wouldn't use the same method on either one. Metallic awnings can be power washed; canvas awnings require a lighter touch.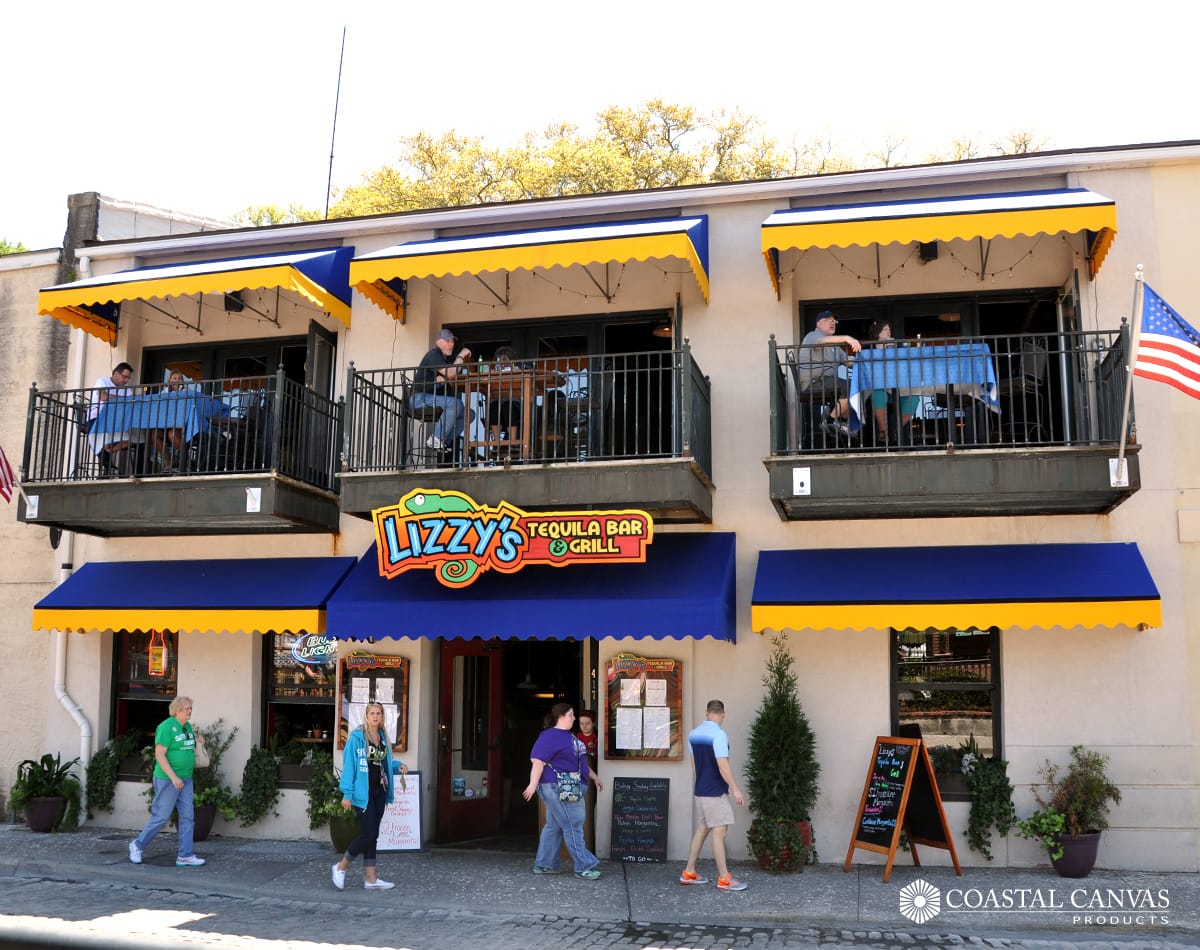 Let's Bring in Those Guests with Commercial Awnings!
Here at Coastal Canvas, we love helping hoteliers and hospitality business owners like you in Savannah, the Lowcountry and surrounding areas drive more business with great awnings.
From placement to shape, color and materials, we're here to help you select the best hotel awnings for new installation or replacements. We'll see you all the way through the process of custom fabrication and installation as well.
Let's get started!
Click the button below to schedule your free consultation.
"Thank you for excellent service. It was very rewarding to do business with a company with employees like yours!" - Scott Residence
Coastal Canvas serves these and surrounding areas:
Savannah, GA
Hilton Head Island, SC
Bluffton, SC
Palmetto Bluff
Beaufort, SC
Richmond Hill, GA
St. Simon's Island, GA
---
A Note About COVID-19:
Coastal Canvas Products is deeply moved by the COVID-19 pandemic, and we are acutely aware of the impact that it has had on all of our lives. We are committed to our customers and their deadline commitments, and are therefore working with a minimal on-site staff to keep production moving forward on all orders. We are insistent upon safe practices, repeated hand washing and social distancing at all times.
For some good news, we are proud to say that we are donating our time and equipment to manufacture PPE for medical workers on the front lines and are so happy that we can serve our country in this way. We will get through this together!
- Andrew and Ellen Barber, Owners of Coastal Canvas