How to Clean Your Metal Canopies and Metal Awnings
Metal canopies and metal awnings are a great investment for businesses and many homes. They're highly durable, provide excellent protection and last for years.
It's important to protect your investment by keeping them looking good, and that means regular cleaning.
Read on to learn how to properly clean your metal canopies and awnings. (In the market for new ones? We'll also throw in a great tip for preventing corrosion, too!)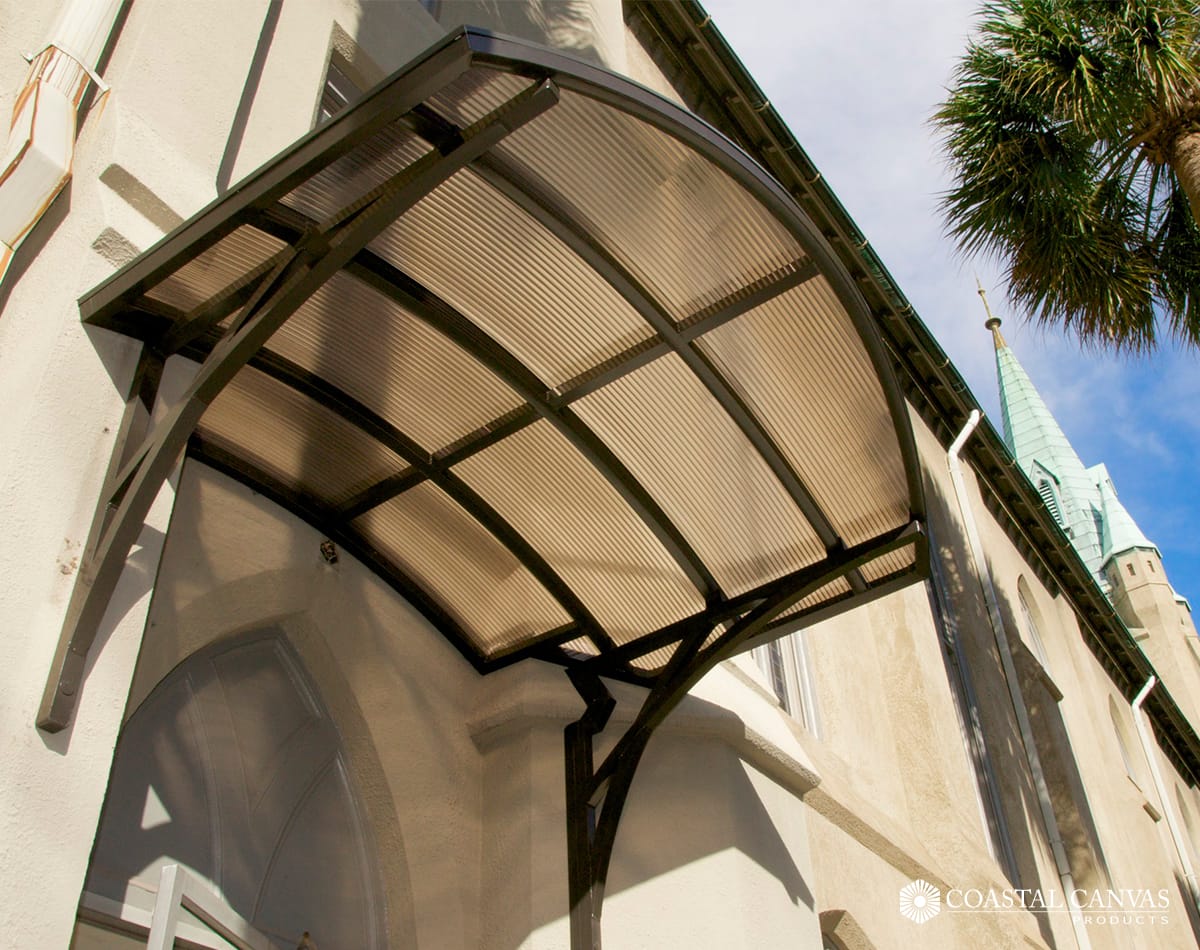 ---
Why Metal Canopies/Metal Awnings?
If you're a brick-and-mortar business owner, you don't just want to make a good impression. Having an attractive building/storefront is necessary. Beyond that, you want a good ROI. Metal awnings and canopies provide that as they last for years.
As a homeowner, you're just as interested in getting good value out of your shade and protection solutions. Metal canopies and awnings not only provide extra protection from the elements, custom fabrication makes their design incredibly versatile.
They can be formed in a classic shape that mimics the gentle slope and fringework of canvas awnings, or
Metal can provide a more modern look as well, with sleek lines and sharper angles, which many homeowners prefer.
Pricing is generally reasonable, especially considering how long metallic structures last. And, as we'll get into below, home and business owners really appreciate the ease of maintenance.
But before we get into that, let's address a question you may be wondering about.
Metal Canopies, Metal Awnings: What's the Difference?
When it comes to metal canopies and awnings, we're talking about virtually the same thing whichever term we use.
Sure, there are subtle differences:
Canopies are typically free-standing structures.
Awnings are typically attached to a building.
But the terms "metal canopy" and "metal awning" are pretty interchangeable.
Both are:
Permanent, rather than temporary structures (as a cloth canopy might be temporary).
Fixed, rather than retractable (as canvas awnings might be).
If we're getting specific about construction, we might be more apt to use "awning" when we're covering an entranceway or a window, "canopy" when we're creating a covering for an unattached seating area. There are subtle differences in the types of support needed.
But it doesn't really matter, especially when we're talking about cleaning and maintenance. The instructions that follow apply to both.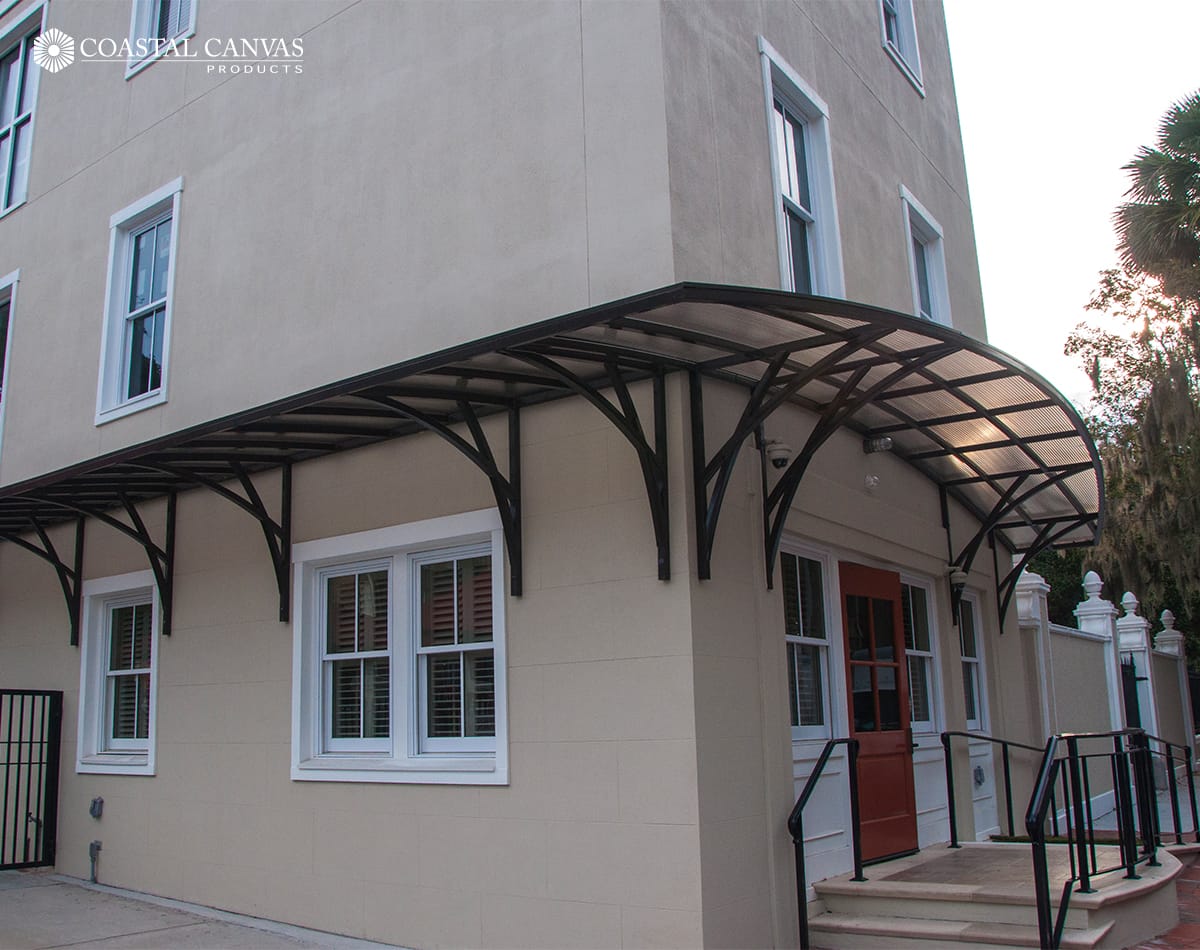 How to Clean Your Metal Awnings/Metal Canopies
Just follow these four simple steps at least twice a year to keep your metal shade structure looking fantastic.
1. Pre-rinse.
Hose it down, top and bottom. This will clear away any loose particles, like dust, and most of the bugs that may be making a home in the underside of your awning or canopy.
2. Prepare a solution.
Choose a solvent that's appropriate for the material (typically aluminum or steel). Acetone is a mild solvent good for surfaces like this, as more abrasive chemicals could stain or damage the paint or powder coat (see more on that below).
Mix with water as recommended on the label.
3. Scrub or pressure wash (gently).
You can climb up there with a brush and hand-scrub the topside, but it's a lot safer to stay on the ground. That's why pressure washing is a popular choice. Some telescoping wand attachments can extend up to 24 feet.
Just be careful:
You don't want to exceed 500 PSI. If you do, you might damage the outer coat.
You might also consider only using pressure on the topside if you have lights underneath. Pressure washing could damage the fixtures.
Do be sure to clean the underside thoroughly, however, by hand if necessary. You'll want to be sure to get rid of any wasp or bird's nests that your pre-rinse didn't reach.
4. Rinse.
It's important to rinse thoroughly. If the cleaning solution dries into the awning/canopy, it will leave an unattractive residue. It can also stain any wood built into the structure or around it, so be sure to rinse everything.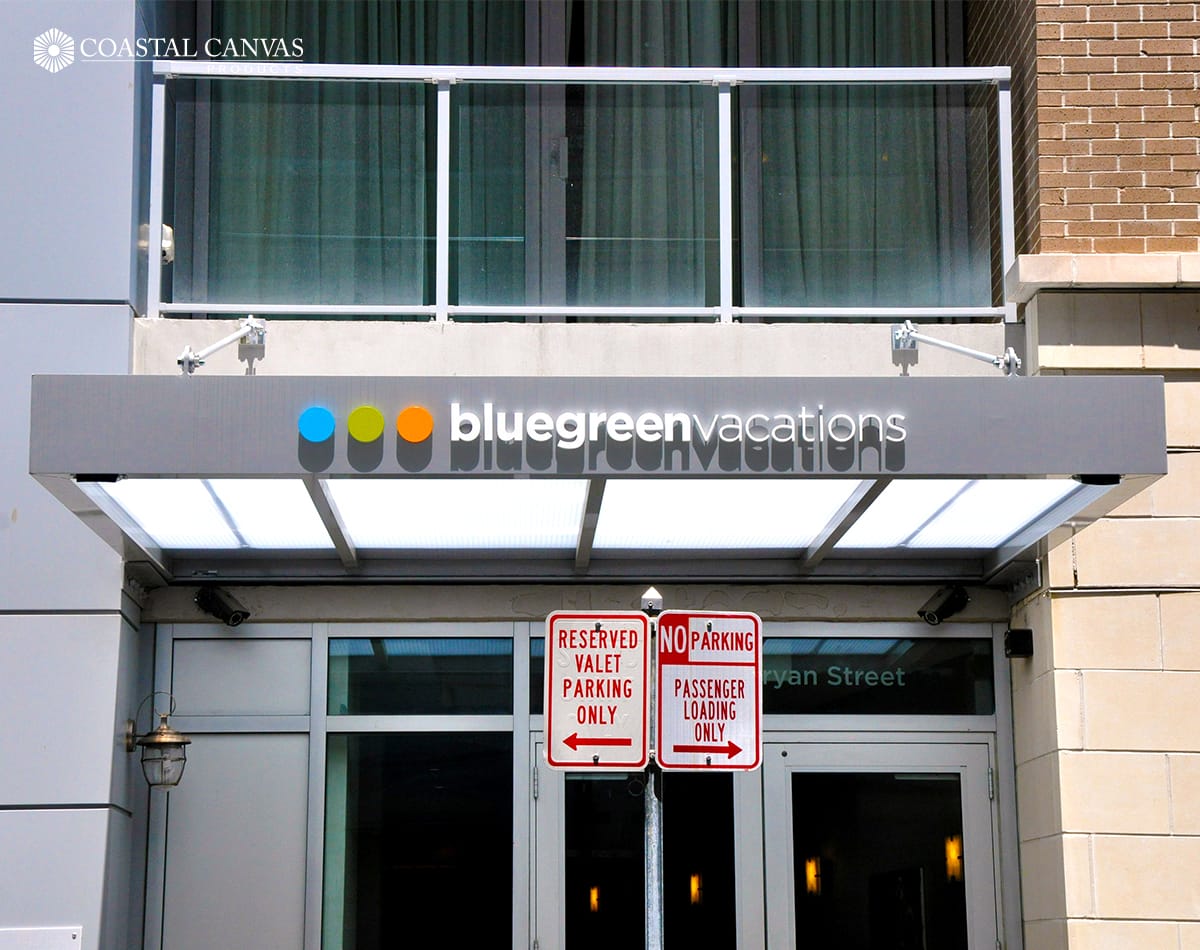 Protect New Metal Structures with Powder Coat
To significantly reduce the risk of corrosion - and, by extension, the need for high-frequency cleaning - apply a powder coat to your custom metal structures prior to installation.
Our Coastal Powder Coat is an electrostatically-applied powder that provides a hard finish much thicker than paint. This thoroughly protects the metal awning or canopy that protects everything beneath, shielding it from precipitation, the harsh sun and corrosion from moisture.
That makes maintenance a simple matter of cleaning rather than dealing with rust and penetrations that have damaged the metal substrate. In many cases, starting with a good powder coat prevents the need for a costly replacement years before it would otherwise be necessary.
Protect Your Investment in Metal Awnings and Metal Canopies
Here at Coastal Canvas, we don't just want to provide quality products. We want to see our customers thrive, and that means helping to ensure you get the most out of your investment in custom metal fabrication.
If you have any questions about:
Cost of metal fabrication
Applications for custom products
Fabrication process
Powder coating
Maintenance and cleaning
Other shade/protection solutions for home or business
Let's talk about it! Just click the button below to start a conversation about metal awnings, metal canopies, or any of our products to find the right solution for your home or business.
Coastal Canvas serves these and surrounding areas:
Savannah, GA
Hilton Head Island, SC
Bluffton, SC
Palmetto Bluff
Beaufort, SC
Richmond Hill, GA
St. Simon's Island, GA
---
A Note About COVID-19:
Coastal Canvas Products is deeply moved by the COVID-19 pandemic, and we are acutely aware of the impact that it has had on all of our lives. We are committed to our customers and their deadline commitments, and are therefore working with a minimal on-site staff to keep production moving forward on all orders. We are insistent upon safe practices, repeated hand washing and social distancing at all times.
For some good news, we are proud to say that we are donating our time and equipment to manufacture PPE for medical workers on the front lines and are so happy that we can serve our country in this way. We will get through this together!
- Andrew and Ellen Barber, Owners of Coastal Canvas