How to Help Your Business Recover with Branding: Commercial Awnings and Signage
At the time we're writing this (May 2020), many Coastal Empire businesses are struggling to recover in the midst of an ongoing pandemic. In this post we'll look at timeless strategies for recovery and how branding your commercial awnings, patio enclosures and signage can help.
No matter when you're reading this, maybe years after the pandemic has passed, we can all learn from this moment of crisis:
Businesses that had been ordered to shut in Savannah and surrounding communities on the Georgia side were allowed to open on April 24th. Restaurants were allowed to reopen their dining rooms on the 27th.
And in the areas we serve on the South Carolina side, restaurants in Bluffton, Okatie and nearby communities including Hilton Head Island are allowed to experiment with outdoor seating - with social distancing measures in place - as of May 4th.
But being open does not mean people will automatically come to your restaurant, storefront or other brick-and-mortar business. There's still a lot of uncertainty about visiting your establishment. The return to "normal" is going to take awhile.
This isn't the first time a crisis has kept patrons away from a business, and it won't be the last (though we certainly hope the next crisis will be far less severe).
The question is: What can you do to help your business recover? We've put together five tips for you (and ourselves), including why branding your commercial awnings, patio enclosures and signage is as important as ever.
---
TIP #1: Don't panic.
In times of crisis, it's easy to let go of the basics of self-care. But there's not much separation between taking care of yourself and the business that needs you, so self-care is essential to taking care of the business. (If you're a sole proprietor, your business is you.)
Eating well, exercising, meditation or prayer - these are the basics of self-care that are more important than ever in a time of crisis. This is especially true if you have employees who are looking to you for stability.
A healthy mind and body will help you think clearly and act decisively day by day.
TIP #2: Make a plan for bouncing back.
Staying positive is tough at times like these, but necessary to get your mind into planning mode. You can't make a plan if you don't believe your business has a future. Applying for emergency loans is a step that alone won't cut it. Believing is the first step to charting a way through.
Next, ask yourself these five "P" questions to build a foundation for the long term:
What position in the market can you attain in a post-crisis world? (What new needs will your customers have? How can you adapt to those needs?)
What is your plan to lay the foundation for your future position?
What change in perspective will be required of you and your staff to move forward in a new way?
How will you break your plan down into projects? (And how will you execute them?)
How prepared are you to take on these projects?
With a long-term plan to adapt to ways you see your market altered, you stand a much better chance than with no plan at all.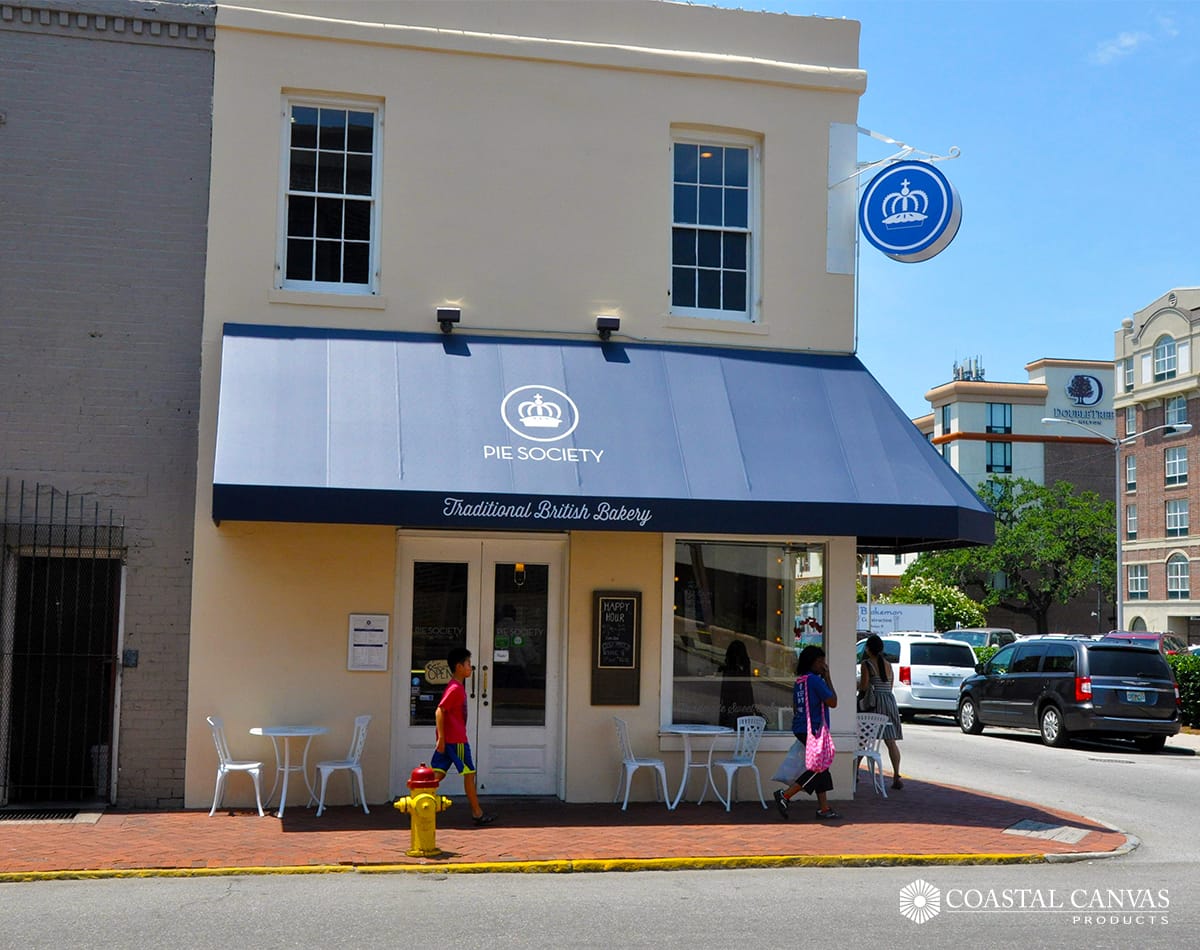 TIP #3: Prepare for pent-up demand.
While there's no telling in the midst of a business crisis when exactly you'll fully bounce back, you need to stay prepared to capitalize on a possible bump in the short term.
All it takes is a handful of loyal patrons deciding they feel good about coming back, posting their visit on social media, influencing others, and before you know it, your business could come surging back to life.
You need to be ready for it if and when it comes. That means making sure you don't cut back too much on business operations: your product stock, advertising, maintenance, etc. That includes making sure your storefront, restaurant or hospitality business is looking sharp.
Your patrons will come back. It's only a question of when, and if you're not ready to receive them when they do, the same rules of business apply. You risk losing them to the competition.
TIP #4: Invest in branding (or re-branding) to regain trust.
In a post-crisis world, branded storefront signs, commercial awnings and patio enclosures provide more than the basic information and identity for your business. Strong, branded messaging answers critical questions in the mind of your customer or guest.
"Are they open?"
"Did they survive?"
"Can I still trust them?"
Well-branded signage in the wake of crisis implies a lot. It says you believed in your customers at a time when others assumed their customer base wouldn't return. Strong signage implies you are still here, staffed, stocked and viable.
It gives the appearance that customers can still expect the experience they have come to miss - a promise you will back up as soon as they enter. It's how you'll regain their trust in you.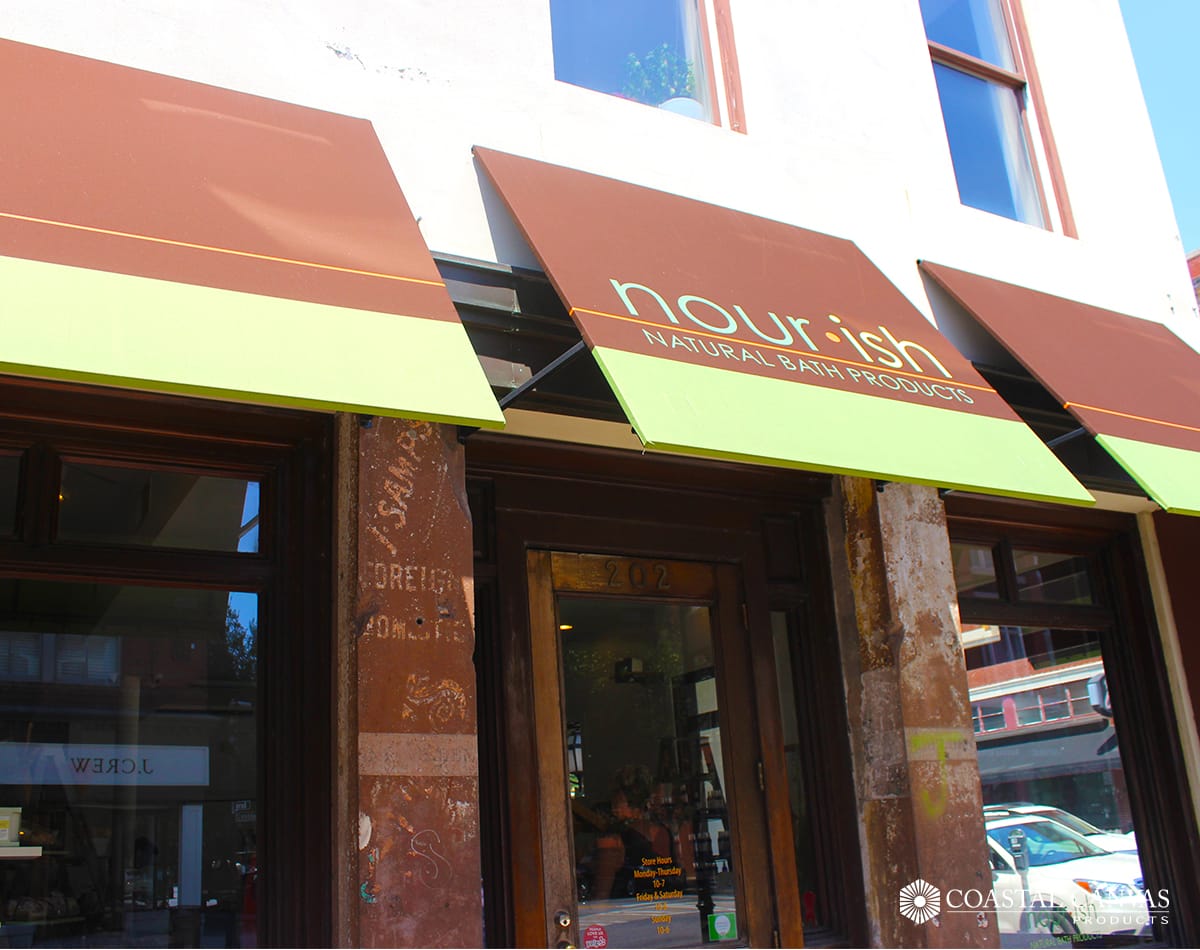 TIP #5: Create a contingency plan for the next crisis.
Start taking precautions that you never thought to take before this crisis, because the next one is bound to come. (Again, we hope it won't be another pandemic!)
Here are a few ideas:
Build up liquid cash savings.
Pay down your debt.
Work on efficiencies to cut labor costs.
Make an emergency plan for remote work.
Hire a business consultant or financial advisor.
After a crisis might be the best time to start working with a financial advisor, because you'll be far more receptive to taking their advice.
Tell your advisor about your interest in making long-term investments in your storefront to create a more viable future for your business, and make a workable plan to follow through.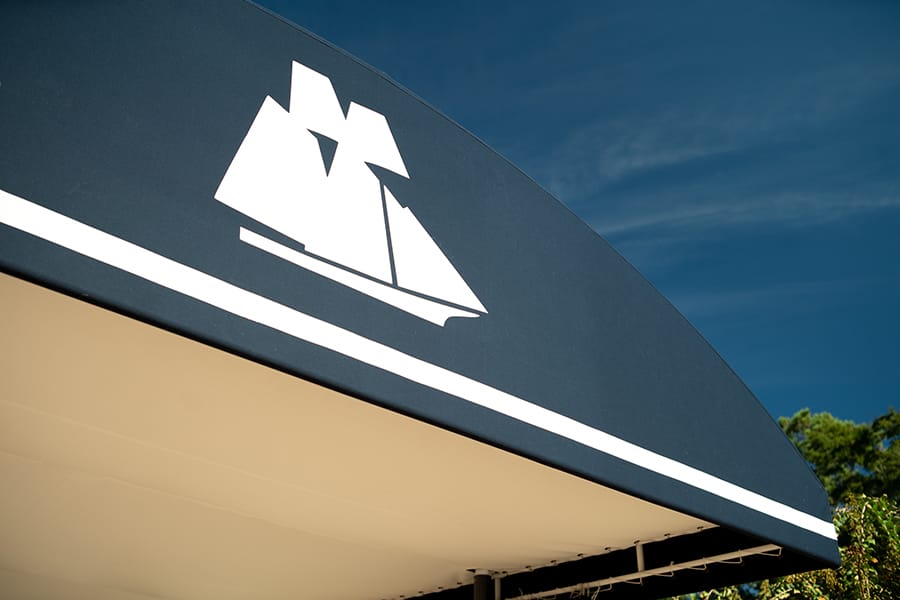 Branding, Signage & Commercial Awnings: Coastal Canvas Is Here for You
As a small business ourselves, we get it. It is incredibly difficult to think about the future viability of your business when you're making tough decisions today, maybe even cutting your own pay to keep the place afloat.
But if you take nothing else away from this post, take away this: To make it in business, we always have to believe in a strong future.
Does that mean you need to invest in new commercial awnings and signage? It might. That depends on a lot of questions to ask yourself as you steer the ship through the storm. But whatever you do, don't do it out of fear. Do it because you believe in your business.
We certainly believe in ours.
Questions about branding, patio enclosures, signage, commercial awnings or other shade structures for your business? We'd be delighted to speak with you.
Coastal Canvas serves these and surrounding areas:
Savannah, GA
Hilton Head Island, SC
Bluffton, SC
Palmetto Bluff
Beaufort, SC
Richmond Hill, GA
St. Simon's Island, GA
---
A Note About COVID-19:
Coastal Canvas Products is deeply moved by the COVID-19 pandemic, and we are acutely aware of the impact that it has had on all of our lives. We are committed to our customers and their deadline commitments, and are therefore working with a minimal on-site staff to keep production moving forward on all orders. We are insistent upon safe practices, repeated hand washing and social distancing at all times.
For some good news, we are proud to say that we are donating our time and equipment to manufacture PPE for medical workers on the front lines and are so happy that we can serve our country in this way. We will get through this together!
- Andrew and Ellen Barber, Owners of Coastal Canvas