The Beauty and Genius of Tension Structures (Fabric Structures) for Your Property
Tension structures, also known as tensile structures or simply fabric structures, are an amazing architectural feat with modern, awe-inspiring commercial applications.
This article explains what they are and where they come from, and will give you some ideas for how you might utilize tension structures for your events or on your commercial properties.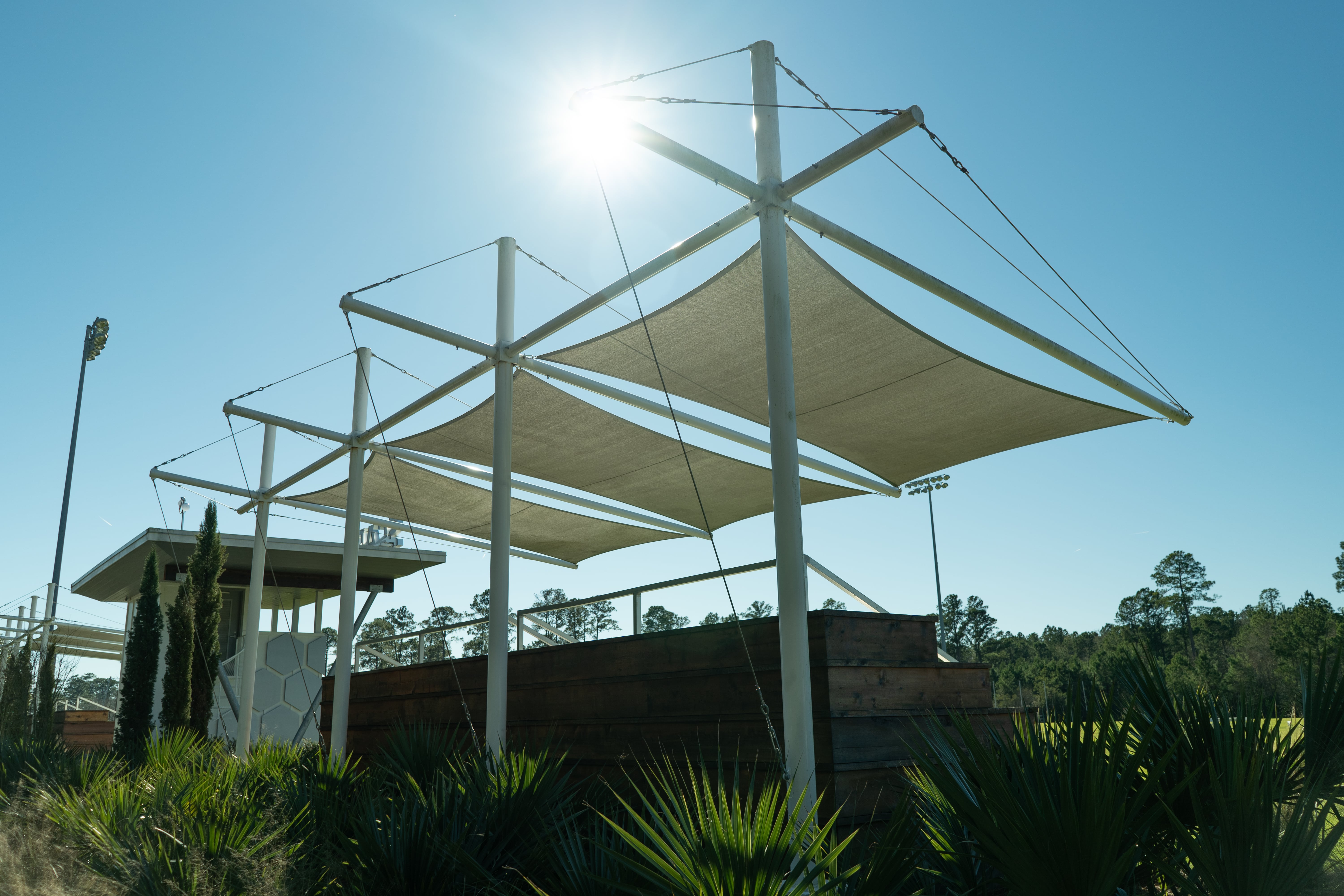 ---
Compression Structures vs. Tension Structures
Most buildings stand as a function of compression.
That is, building materials are stacked on top of one another to form walls and frames, and they are held together due the compression caused by their weight. The force caused by materials pushing together provides stability.
Tension structures work on an entirely different principle.
The strength of the structure comes from the opposite of compression - fabric is pulled from separate ends, stretched between supports on cables, and it is the force of that tension that provides stability.
Our use of tension to make structures safe, secure and attractive goes way back in human history, and these historical relics inspire our modern structures today.
Small-scale Fabric Structures are Ancient
If you're wondering about the stability of fabric structures, ask yourself this: Have you ever used a tent?
Tents are classic tensioned-fabric structures.
The tipis of Native American groups worked on the principle of tension. They propped up wooden poles that met at the top and stretched fabric all around, creating tension on the base that held the structure together securely.
Another version of this is the Siberian ger, or yurt in Russian. Though this structure was a bit more complex, with latticework in the circular wall and poles meeting in the middle above, the stability was secured by the tension of the surrounding fabric here as well.
Similar structures were also built throughout the Middle East and elsewhere in the world. From ancient times until now, humans have come to rely on the instructional integrity of well-made tents.
But what about when they get … big?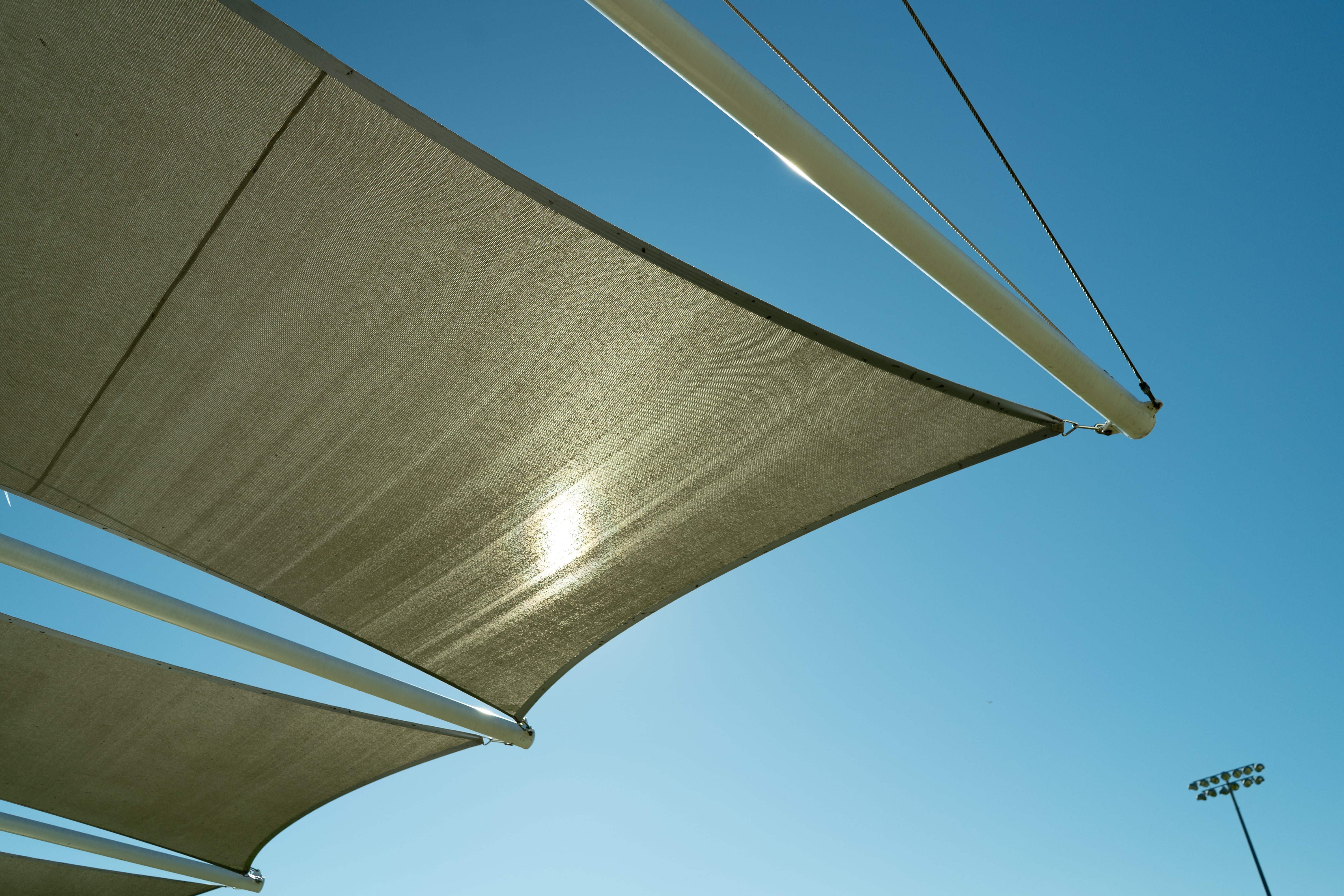 Large-scale Tension Structures Are a Stroke of Genius
There were limits to how large these structures could get without steel, and one man figured out how to combine steel with tension to usher in a new era of tension structures.
His name was Vladimir Shukhov, a Russian engineer who created the world's first tensile steel shells for the Nizhny Novgorod Fair of 1896.
This and many other structures was the product of nearly two decades of groundbreaking applied mathematics and paved the way for a new way of providing roofing with far less material.
(He solved the problem of "non-Euclidean surfaces of negative double curvature." That will make sense to you architects reading this. Otherwise, suffice to say it means he was a genius!)
Other engineers, like Frei Otto, came along later. They perfected the use of tensioned steel cables to produce modern marvels, such as the structures commonly used at the Olympic games throughout the latter half of the 20th century until today.
Types of Modern Tensile Structures
There are two main types of tensile structures: membrane tensioned and mesh tensioned.
Membrane Tensioned: Fabric is held by cables, which provide all the tension force.
Mesh Tensioned: Mesh cabling provides additional structural support. These are often placed behind the stands in baseball stadiums to catch fly balls.
(Pneumatic, or air-supported structures are technically tensile also, but air pressure is creating the tension as opposed to cables. We don't get into that.)
Today, these techniques are used to support huge structures. Among the most famous is the Sidney Myer Music Bowl in Melbourne, Australia. Others include the Denver Union Station shells and the NFL stadium in Minneapolis, the first of its kind.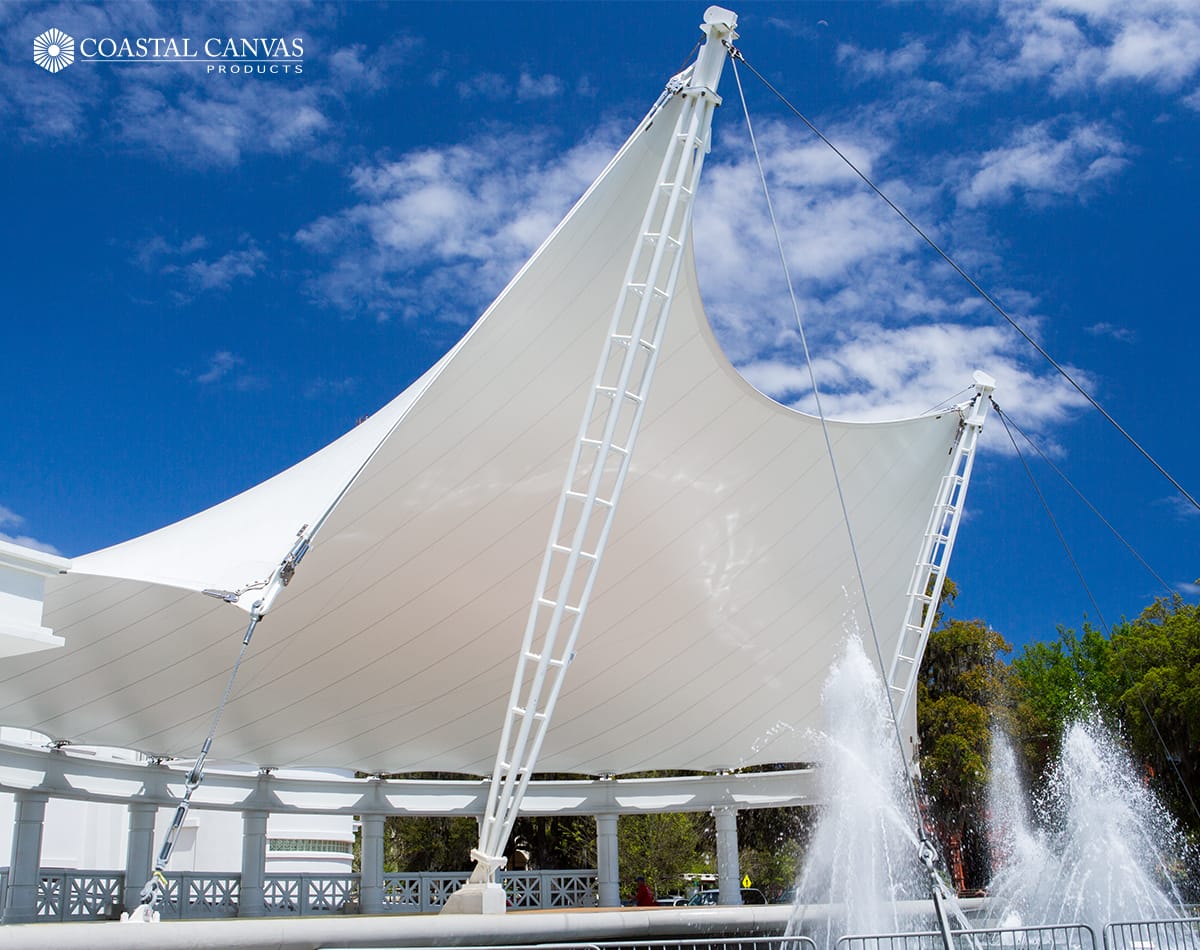 Applications for Commercial Use
There are many ways you might utilize modern tension structures on your commercial property or for events.
(We're publishing this when the U.S. economy is opening back up slowly due to the pandemic, optimistic that mass events will be considered safe and popular again soon!)
Temporary Facilities
Just as Vladimir Shukhov built them for over a century ago, the relative ease of assembly makes tension structures excellent for large-scale events like circuses and outdoor festivals.
Marketplaces
Tension structures are often found in modern outdoor markets and malls. They are excellent for providing both shade and architectural beauty to the shopping experience.
Entranceways
Fabric structures make roofing out of beautiful geometric shapes that are far less feasible as compression structures: half-shell, triangular and various curved forms are popular.
Pickup/Dropoff Areas
High-traffic areas outside of hotels, bus stations, airport terminals - anywhere that people get dropped off and picked up routinely - are places where tensile structures provide welcome cover.
Building Envelopes
Providing distinctive architectural flair to any commercial building, tensile envelopes appear to billow outward from the exterior. They are ideal for industrial applications as they complement an otherwise flat, utilitarian look.
Interior Centerpieces
Large lobbies make great homes for interior tension architecture, impressing guests of hotels, gallery visitors and corporate meeting attendees.
Public Art
Membrane-tensioned structures are wonderful functional pieces, providing shade and shelter. But they are also creative works of architectural art in their own right. There is no limit to the beauty fabric structures can add to a public space but your imagination.
Stadia
The NFL stadium in Minneapolis we mentioned above was the first of hundreds of stadia around the world now roofed with tension structure technology. It's a cost-effective solution that continues to be utilized today.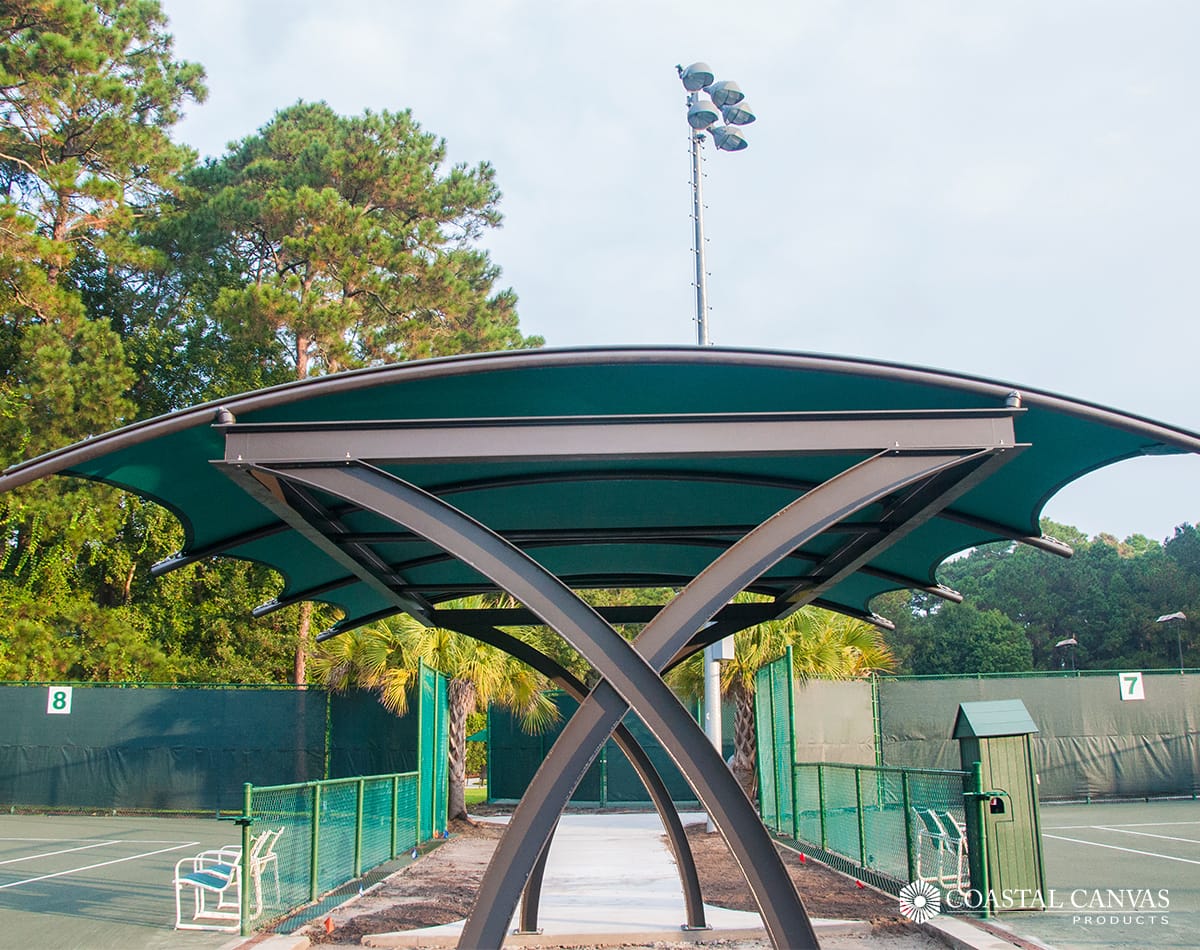 Yes, We Build Tension Structures, Too!
You may know Coastal Canvas as a Southeast U.S.-based awning company. We certainly do that, both residential awnings and commercial awnings.
But that's just one part of a wide selection of products that bring aluminum, steel and fabric together to provide shade and shelter while adding beauty to your home or business.
Are tension structures right for your commercial property? Or next year's big event?
Let's talk about it. It's a conversation you're sure to enjoy, because creating awesome structures like this just for you? Never a dull topic.
"Our salesperson was awesome! We can't say enough about how well he handled our project." - De Sola Design Group
"We have replaced our awning three times since the first purchase. Every time the service is great!" - Tybee Lite Shrine Club
Coastal Canvas serves these and surrounding areas:
Savannah, GA
Hilton Head Island, SC
Bluffton, SC
Palmetto Bluff
Beaufort, SC
Richmond Hill, GA
St. Simon's Island, GA