What Are Shade Sails? (And Why They're Such a Hot Item)
When you think of shade, what comes to mind? There are many options for shade structures. Attractive and versatile, shade sails (or patio sails) have become one of the most popular.
This man-made shade solution dating back to the ancient world has become a functional art form today. Shade sails provide excellent UV protection, a bright and colorful architectural focal point and have seemingly endless applications for home or business.
Read on to learn what makes shade sails so special.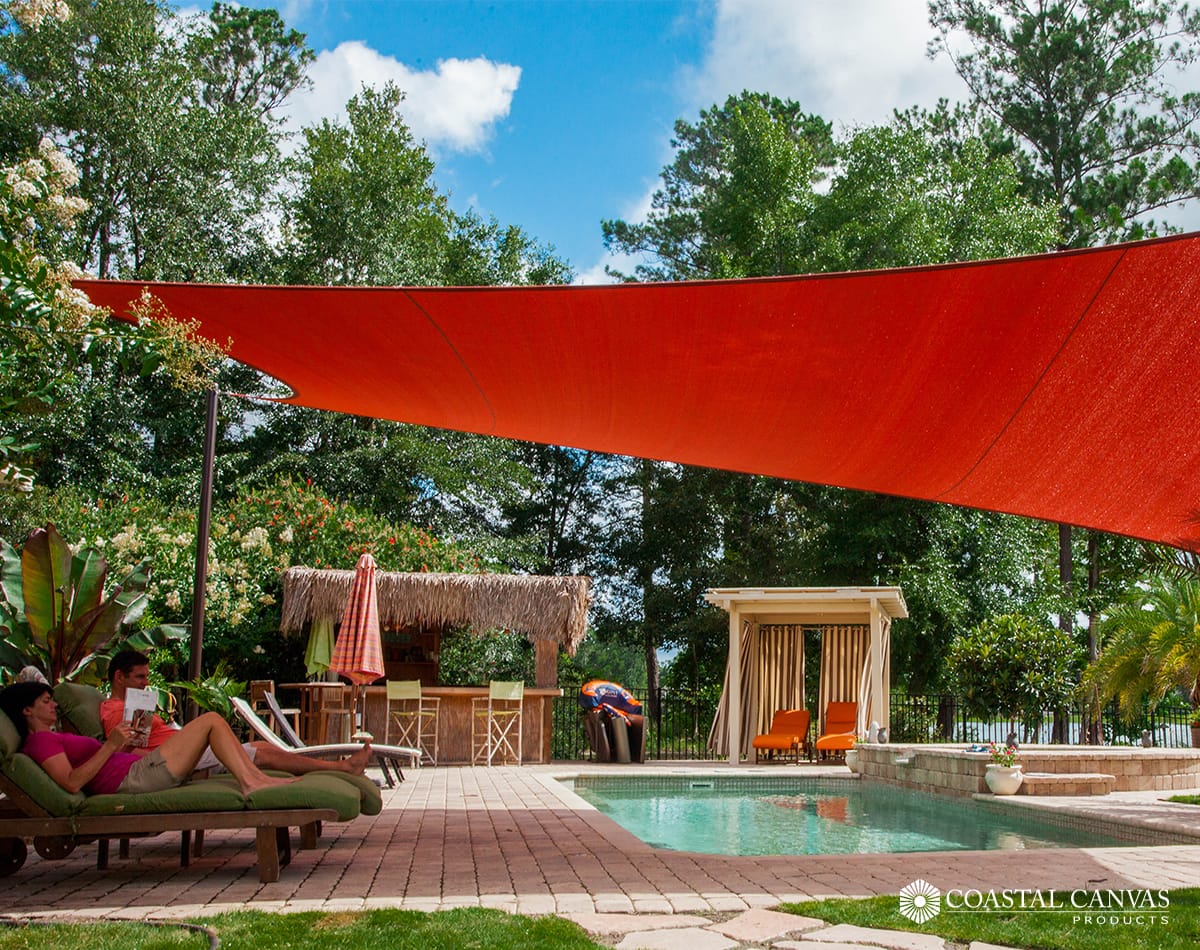 ---
First off, What Are Shade Sails
Shade sails (also called patio sails) are canopies made from modern shade cloth, a knitted polyethylene fabric that blocks harmful UV rays. The fabric is stretched between supports (poles or buildings) to provide cover for a variety of areas such as patios.
Where Do Shade Sails Come From?
The use of cloth to provide outdoor shade dates back at least as far as ancient Rome. The awning over the crowds at the Colosseum - called the velarium - consisted of sailcloth. It was attached to spokes of rope and extended like a sail. Hence the origin of the term "shade sails."
Modern shade sails started to grow in popularity in the 1990s. Today, they've become a familiar sight and delightful addition to residential and commercial properties in sunny climates. That makes them a popular choice for homes and businesses here in the Savannah area.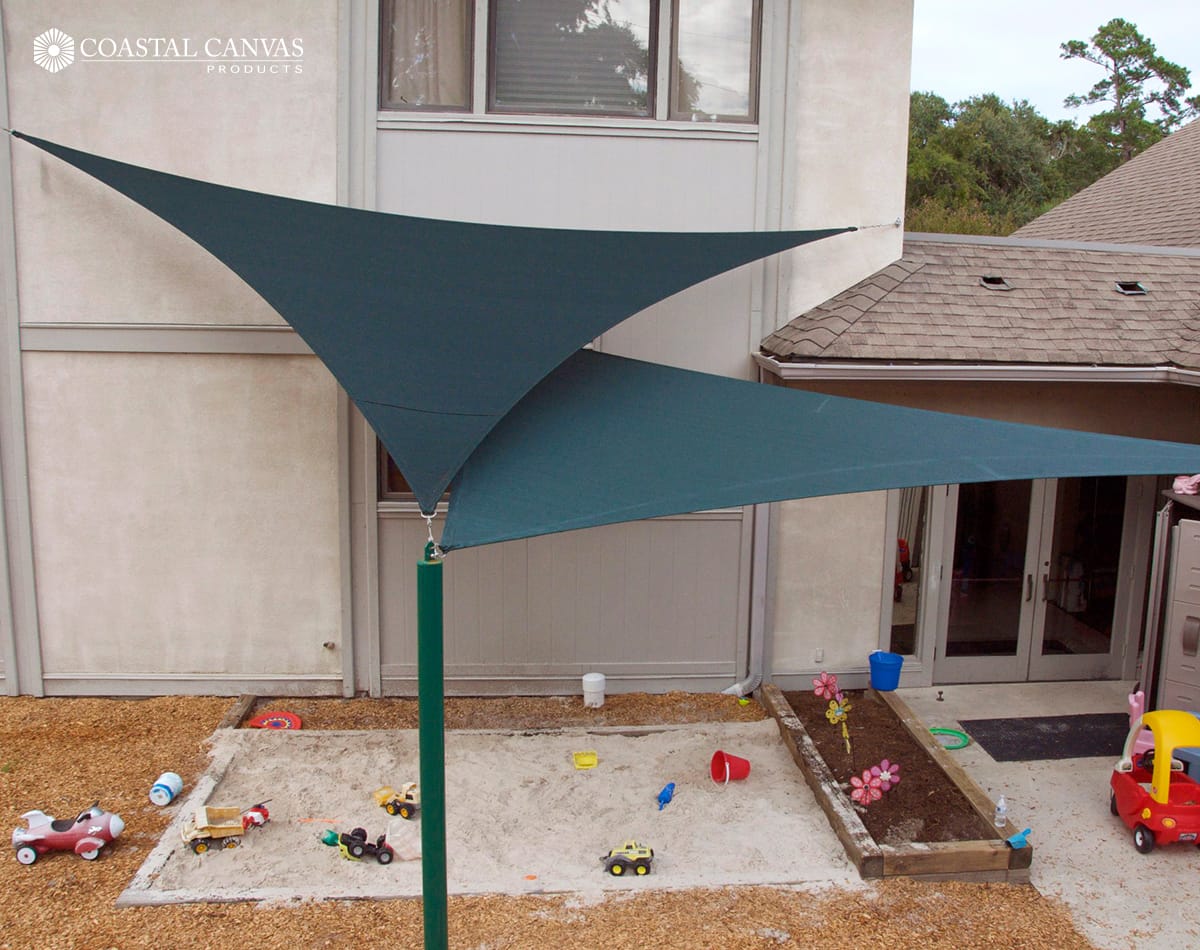 Why Are They Good for UV Protection?
Shade sails allow you to enjoy the beauty of natural sunlight safely. The high-density polypropylene mesh used as modern shade cloth is both translucent and blocks up to 95% of UV rays.
That makes shade sails an excellent way to protect yourself, your family, employees or patrons from the dangers of sunburn, even skin cancer and vision loss without completely blocking the sun.
Where Can You Install Shade Sails?
Shade sails are an incredibly versatile shade solution great for a variety of placements, including:
Patios
Decks
Pools
Playgrounds
Courtyards
Outdoor dining areas
Lounge areas
Picnic areas
Really, shade sails can be used anywhere people congregate. This versatility is due to the way they're constructed.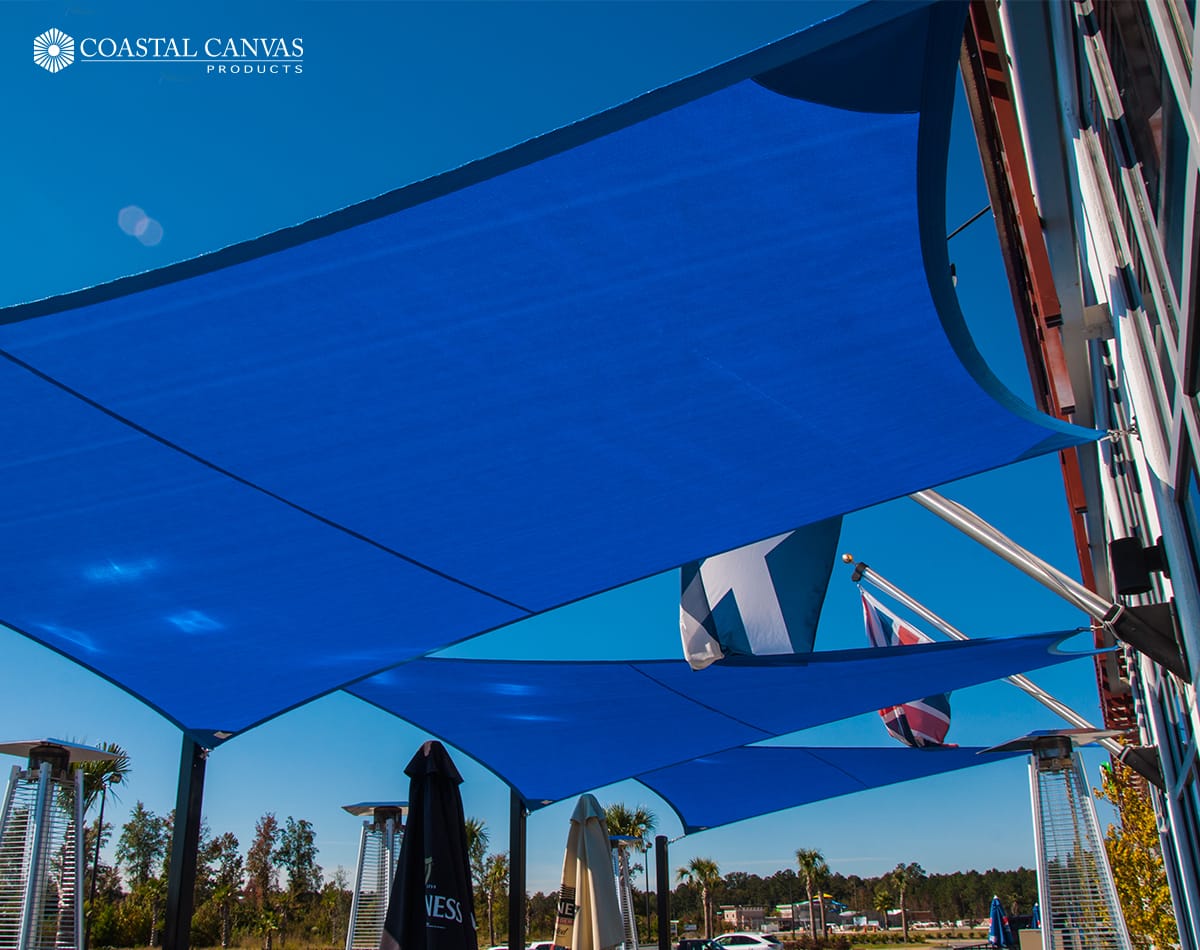 How We Install Shade Sails
Anchoring the Structure
With careful planning, free-standing shade sails can be erected almost anywhere. If we can put poles in the ground with sufficient width and foundational support, we can provide tension for the fabric.
Angling the Fabric Plane
Beyond tension, we also have to consider the angle of the sun against the fabric plane and the size of the area to be shaded. That means taking sun locations throughout the year into account as well as the tension limits for a single shade sail.
Overlapping Sails
In many cases, the best solution is not one shade sail, but several that overlap to cover a broader area.
This is not only a functional solution. Overlapping planes form an attractive work of architecture that adds ambiance and flair to a backyard, commercial patio, playground, or whatever space the structure inhabits.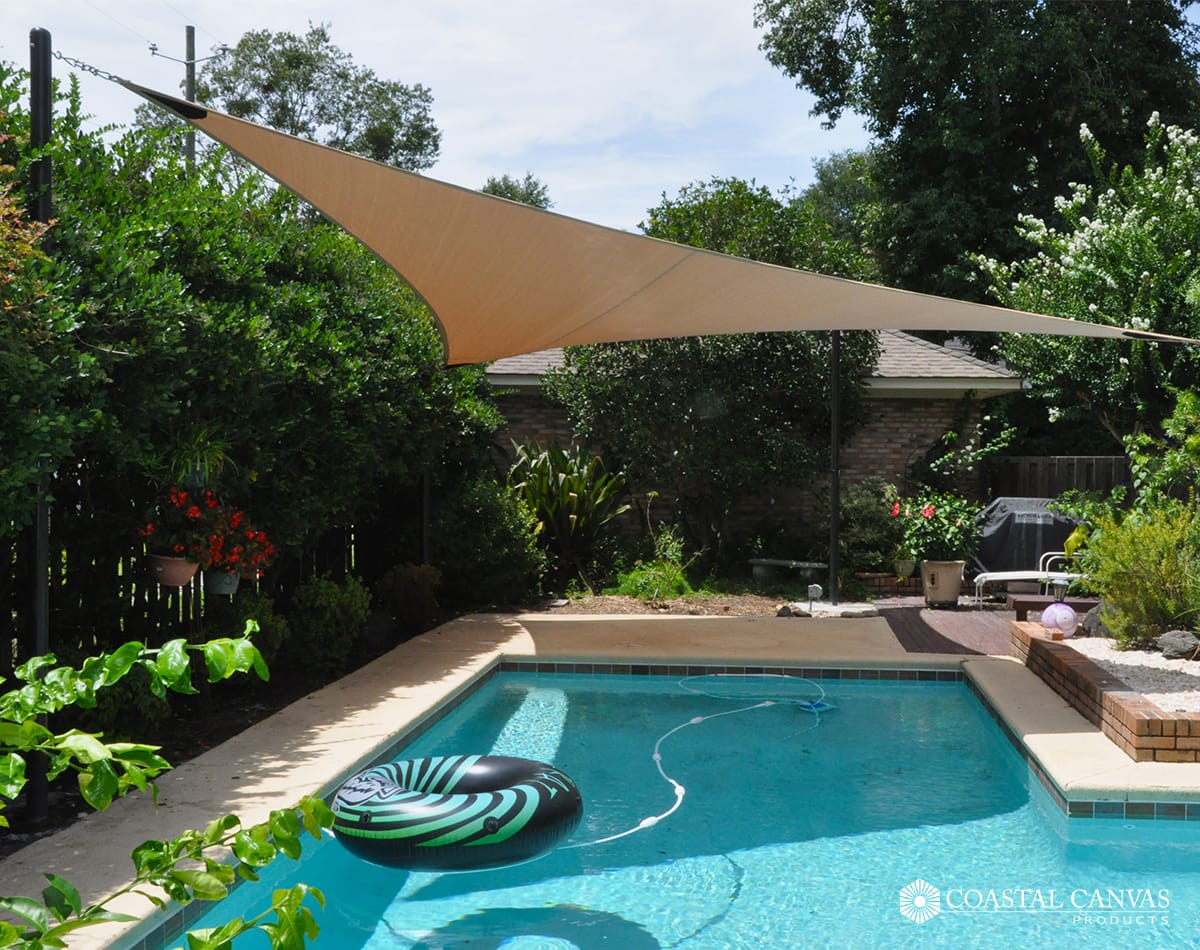 Other Benefits of Shade Sails
The design phase for custom shade sails is exciting because it's really about creating a functional work of art for your home or business.
Residential Shade Sails
Your home functions as a place to live, but it also has an aesthetic you've cultivated to match your lifestyle. Shade sails can be customized to match that aesthetic. They become an extension of your home's character and the hospitality it embodies.
A sight pleasing to the eye for guests to enjoy.
A welcoming sight for parents bringing their children over for a playdate.
An attention-grabbing feature that makes an impression of beauty and safety on potential home buyers. (Which can be moved to your new home.)
Commercial Shade Sails
The business applications of shade sails are about making an impact that brings customers in, creates a talking point that encourages recommendations, and keeps them coming back.
A touch of luxury by the poolside of hospitality businesses.
Comfortable outdoor dining without the need to squint or wear sunglasses.
Safety for kids and peace of mind for parents who didn't pack sunblock.
A branding vehicle to help keep your business top of mind for your customers.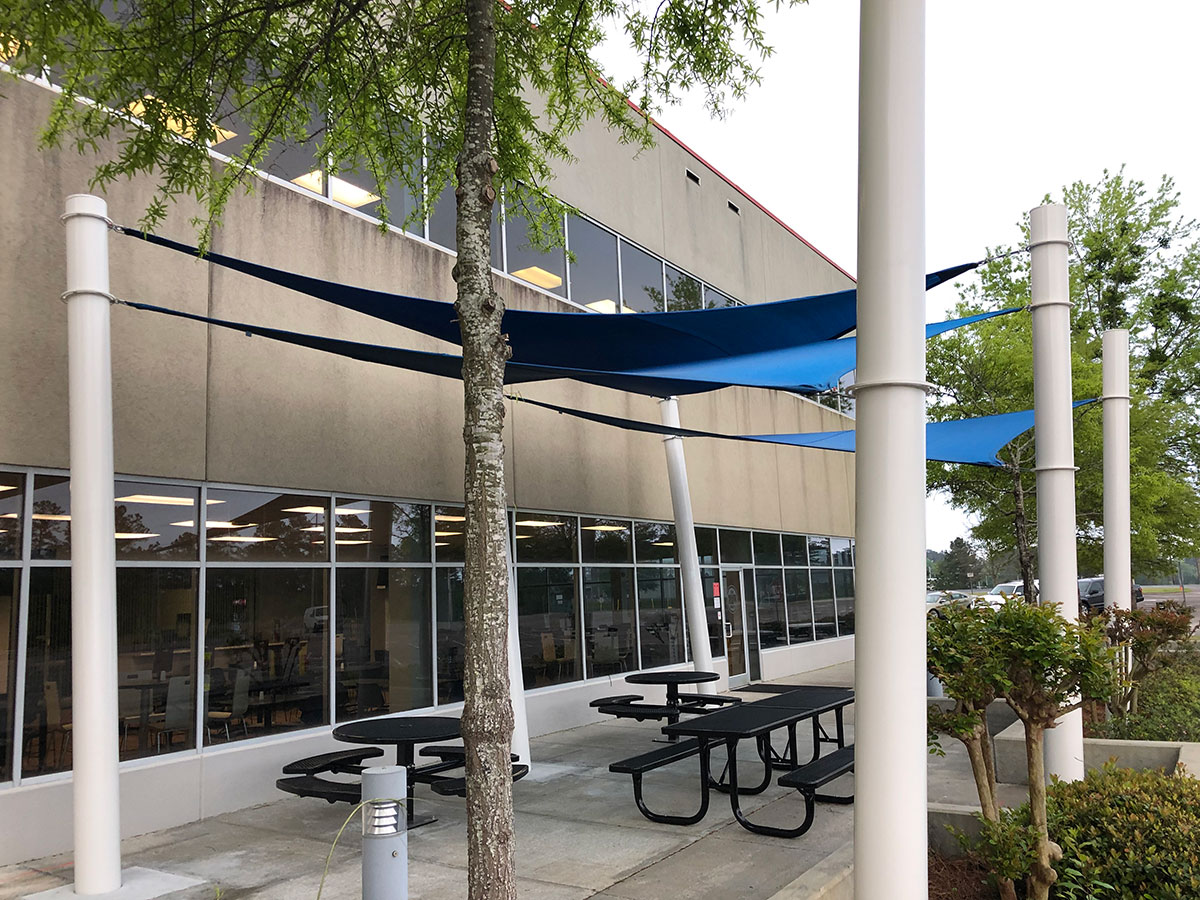 Shade Sails: Part of a Comprehensive Shade Plan
While shade sails are beautiful, versatile and provide safety, they represent one of many options in shade structures for home or business.
You get the idea. Shade sails fit into a comprehensive shade plan for your residential or commercial property that takes into account form and function of each area.
It helps to have a consultant on your side to help you think through all these options ...
Let Coastal Canvas be that shade consultant for you!
Click the button below to schedule your free consultation.
We look forward to helping you determine how to utilize shade sails to help make your home or business more comfortable, attractive and safe.
"It is going sooo well and they look excellent! You're crew is super speedy and professional. We are very pleased and our regional wa delighted when she saw before and after photos today." - Tanger Outlet Centers
"Your staff have been so helpful and the communication with us has been impeccable. Thank you for getting every detail of our vision." - Heiges Residence
Coastal Canvas serves these and surrounding areas:
Savannah, GA
Hilton Head Island, SC
Bluffton, SC
Palmetto Bluff
Beaufort, SC
Richmond Hill, GA
St. Simon's Island, GA
---
A Note About COVID-19:
Coastal Canvas Products is deeply moved by the COVID-19 pandemic, and we are acutely aware of the impact that it has had on all of our lives. We are committed to our customers and their deadline commitments, and are therefore working with a minimal on-site staff to keep production moving forward on all orders. We are insistent upon safe practices, repeated hand washing and social distancing at all times.
For some good news, we are proud to say that we are donating our time and equipment to manufacture PPE for medical workers on the front lines and are so happy that we can serve our country in this way. We will get through this together!
- Andrew and Ellen Barber, Owners of Coastal Canvas