What Can I Cover My Pergola With? Shade Sails and Cabana Tops
Pergolas make a beautiful addition to your home, but the open roof can be a problem after a while. If you're considering pergola covers, shade sails and cabana tops are great solutions!
The thing about pergolas is that they're more about aesthetics than function. There are lots of great pros … but a couple of big cons.
Pros:
They are a beautiful way to showcase your garden areas.
Under the pergola is a lovely place to entertain guests.
Pergolas add value to your home.
Con:
With no roof, you lack sufficient protection from the sun.
You can't enjoy them when it rains, either.
Incorporating pergola covers such as shade sails or cabana tops is a great way to solve the problem without sacrificing what you love about your pergola.
---
Why Do People Have Pergolas?
We're not saying pergolas are a problem and that you should replace them just because they don't have a complete roof. There are lots of great reasons why people build them.
History has us hard-wired to love them.
There's a beauty to pergolas that connects us to history. Whether you know it or not, when you look up at the characteristic crossbeam or latticework, you're admiring a look that has captivated human beings for three millennia.
Their history stretches from the gardens of ancient Egypt to renaissance Italy, when the actual term "pergola" was coined (from the Latin pergula, meaning "projecting eave"), to today.
They connect your house to your gardens.
One of the most popular uses of pergolas is as a platform for vines. If you have a green thumb for it, making a sort of natural tunnel of plantlife really elevates outdoor living areas.
But even if you don't want to put in the time and effort to grow anything on your pergolas, the association is enough to evoke a sense of connecting the manmade world with nature.
Guests love them.
It's a pleasure to spend time beneath a pergola, the sun peeking through, whether passing through to a garden area or sitting and chatting over tea.
This may have been the number one reason you built your pergola. It's the ambiance it adds to gatherings with friends and family, or perhaps coworkers and clients.
They add value.
Of course, when it comes time to sell your home, pergolas really pique a buyer's interest.
All that is great … but there's a downside to this particular structure.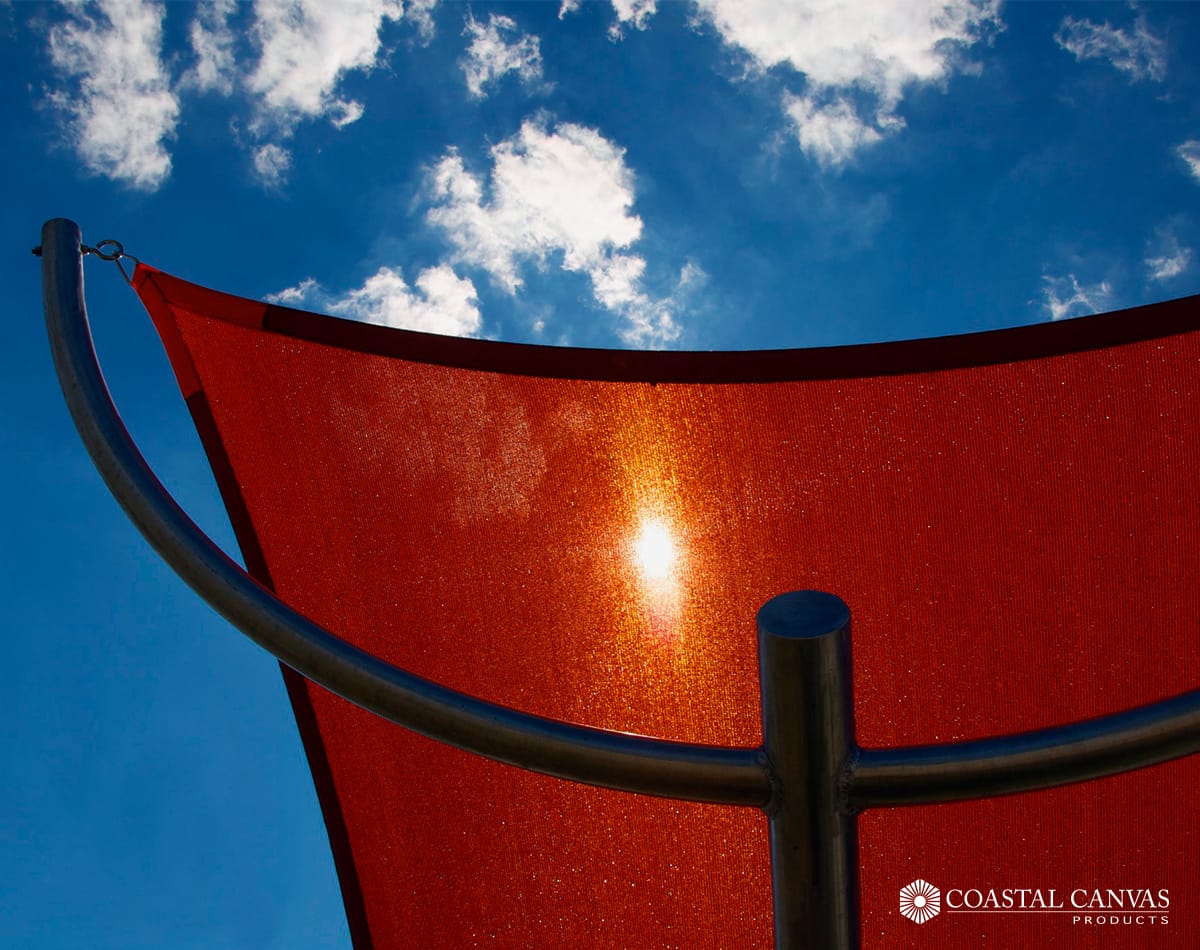 ---
The Problem with Pergolas
By definition, pergolas don't have a roof. That's what makes them different from a gazebo or pavilion. That means spending time underneath them gives you little protection from the elements.
A pergola seemed the perfect choice at first - for all the reasons above - and you don't regret it. Still, you may have come to be more concerned about sun exposure over time.
Maybe you have kids now and you want them to be protected.
You're getting older and realize you're more susceptible to skin damage.
Maybe you're just more aware now of the danger of UV rays and the risk of skin cancer.
Or maybe you'd just like to enjoy your pergola in light rain once in awhile.
The Sun Problem: Risks of Exposure to Ultraviolet (UV) Light
Lacking sufficient UV protection can lead to a number of health problems. UV rays burn skin, both making life miserable for a few days and playing a strong role in the development of skin cancer.
UV rays can produce melanomas, the most dangerous of the common types of skin cancer. It can also cause carcinomas, another type of uncontrolled skin cell growth. Although treatable, skin cancer can metastasize - spread - like any other cancer if not caught and treated.
UV light can also cause vision problems, triggering cataracts to form and cause cloudy vision. A painful condition called photokeratitis (eye sunburn) can develop. And macular degeneration can cause profound vision loss and eventual blindness.
That Said ...
Does all this mean you have to replace your pergola with a gazebo? Knock it down and build a pavilion with a solid roof?
Nope! There's a better way.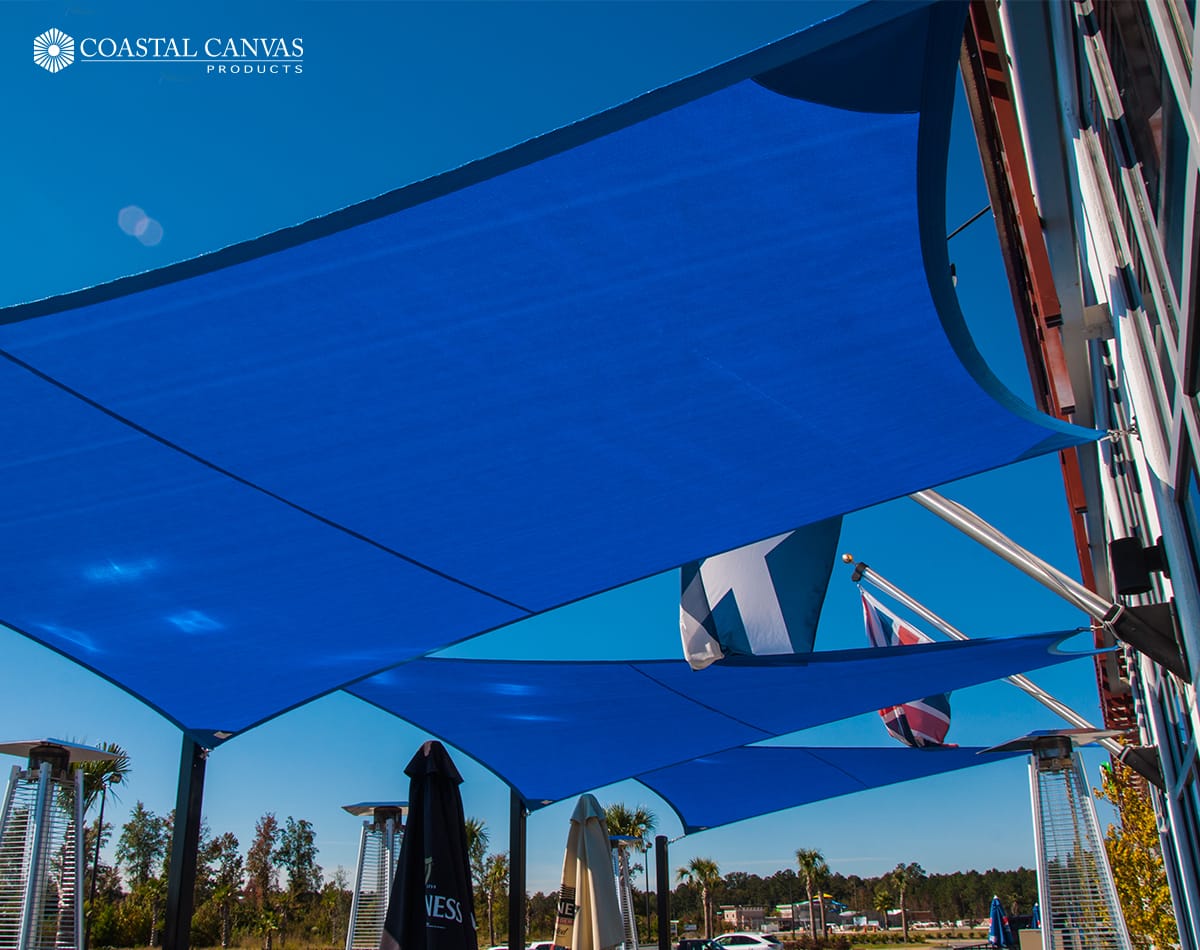 ---
In the Sun: Shade Sails Enhance Your Pergola
To get the added protection you want without sacrificing what you like about your pergola, consider shade sails.
Shade sails are canopies made from durable, UV-blocking outdoor fabrics. Unlike a roof or a dome, they are designed to block direct UV rays while allowing plenty of indirect sunlight.
When carefully erected over your pergola, shade sails:
Provide just the right amount of shade.
Maintain an open air feel to the space.
Still allow you to enjoy the sun.
Don't require you to sacrifice the aesthetic appeal of the pergola.
In Rain: Cabana Tops Modify Your Pergola
To get cover from the rain, you will need fabric much closer to the overhead structure. That's where cabana tops come in handy.
Cabana tops are also made from durable outdoor fabrics. They both block UV rays when the sun is out and have the added benefit of keeping you dry.
With this option, your pergola is an outdoor living space:
Protected from the sun.
Enjoyable in light rain as well.
That retains the open-air feel and the aesthetic appeal of the pergola.
What's so great about either the shade sail or cabana top solution is that it means having your cake and eating it, too. You get to enjoy your pergola without worrying about sun or rain.
Shade Sails and Cabana Tops - Modern Enhancements to an Ancient Structure
There's a good chance you're wondering something like: "Sounds good, but how's it going to look?"
Great question!
This might be the best part, because we are a custom shade sail and cabana top designer and installer.
Images from other Coastal Canvas projects might get you thinking about what yours might look like. But ultimately, the size, shape, color - the way your shade sail or cabana top will fit seamlessly into your outdoor living aesthetic - will be unique to your home.
All we need to get started in an invitation. Click the button below to schedule a free consultation at your home (or business!). We love shade sails and cabana tops, and we know you'll love them, too.
---
There are other options that might work better depending on the size and location of your pergola, from various types of canopies and awnings to more sophisticated tension structures.
We've been delighted to serve hundreds of homeowners just like you:
"I love my new patio awnings. Great comments from our neighbors!"
- Semple Residence
Coastal Canvas serves these and surrounding areas:
Savannah, GA
Hilton Head Island, SC
Bluffton, SC
Palmetto Bluff
Beaufort, SC
Richmond Hill, GA
St. Simon's Island, GA