3 Reasons You Need Storm Shutters Besides Hurricane and Storm Protection
Residents of South Carolina and Georgia's coastal areas like you know the importance of storm protection for your home or business. And that storm shutters are a good solution.
You may already know that hurricane shutters are built tough to protect your windows.
But you might not know that there are at least three other good reasons to invest in storm shutters. Storm protection? That's just a start!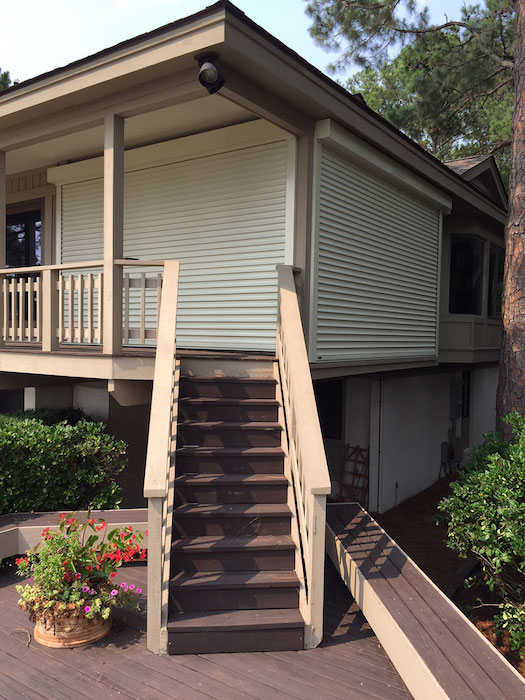 ---
1. Security
Did you know storm shutters can help keep your home secure?
Property crime, such as burglary, is a serious problem in our part of the country. As you might expect in beautiful places like Hilton Head Island, Savannah and surrounding areas, attractive properties make for popular targets.
Just look at recent burglary stats for a few local communities:
Burglaries (2019 projected)
Savannah, GA - 2,582
Bluffton, SC - 60
Beaufort, SC - 106
Richmond Hill, GA - 44
In addition, our largest city, Savannah, and local island communities each have a property crime index much higher than the U.S. average. On a scale of 1 (low crime) to 100 (high crime), the U.S. average is 35.4.
Property Crime Index
Savannah, GA - 51.5 (45% higher than U.S.)
St. Simon's Island, GA - 62.2 (76% higher than U.S.)
Hilton Head Island, SC - 80.2 (126% higher than U.S.)
These numbers suggest it's a good idea to take extra precautions against burglary. Storm shutters actually provide this added benefit.
How Storm Shutters Provide Security
When properly in place, storm shutters add a nearly impenetrable layer of protection to your windows and doorways. That's bad news for burglars. Most of them are opportunists who are looking for an easy score. If they feel like your house isn't worth the trouble, they'll move on.
The same goes for your storefront business. No matter how valuable your merchandise, burglars always prefer to target buildings with exposed windows or easier options for entry. The harder and riskier you make it for them to rob you, the more likely they are to leave you alone.
2. Energy Conservation
And did you know storm shutters are helpful for saving energy, too?
A Lot of Heat Passes Through Windows
The intrusion of heat through windows in the summer, and the loss of heat in the winter, accounts for 25 to 30 percent of residential energy use.
That's because your HVAC unit has to compensate for the excess heat (in summer) or lost heat (in winter).
You can reduce that to some degree with new windows (and that number can be a lot higher with old windows). But if you're also interested in storm protection, the more complete solution is to cover your windows with hurricane-resistant shutters when you're not using them.
Sunlight Also Increases Energy Demand
There is an added energy conservation benefit, too. In addition to heat transmission, sunlight also creates added heat inside your home when it passes through glass.
That puts increased demand on your air conditioning system to compensate in the hot spring and summer months.
Storm shutters effectively block sunlight and reduce that energy demand when you're not at home, not using your south-facing rooms, or when you simply prefer the shades drawn.
3. Versatility
Have you considered how unappealing the alternative to storm shutters will be?
Boards Provide Minimal Protection Only & They're Ugly
The traditional approach to hurricane protection is to board up your windows and doors. But there are a few reasons why that's not ideal.
Boarding up is labor-intensive. You do it because you have to do something when a hurricane approaches, not because you enjoy buying, cutting and nailing up plywood. It's not fun.
Plywood only serves one purpose. It has no value other than as minimal hurricane protection. Just like insurance, you don't like needing it and always hope it turns out you didn't need it after all.
Boarded up houses and buildings are ugly. That's not your top concern, of course. But it does feel awful to see your home in that condition. You'd naturally prefer not to.
Storm Shutters Are Already Up & Attractive
Once installed, storm shutters are always there, ready to do either the everyday job of providing shade and security as well as its emergency job of hurricane protection.
And they're actually an attractive feature of your home or business. Whatever the style - louvered or roll shutters - storm shutters are part of the exterior design. They don't just protect you. They look good while they're doing it!
Storm Shutters: Good for Way More Than Storm Protection
Yes, installing storm shutters is an important part of hurricane protection. But as you now know, they're great for much more.
Storm shutters:
Make your home or business more secure,
Help you conserve energy, and
Serve as an attractive alternative to boarding up your windows.
Oh, and you also may not realize this is one of several proven storm protection measures you can take. Others include storm panels, hurricane fabrics, and screens.
So which is the best for your home or business?
To find out, request an estimate from Coastal Canvas today. We look forward to going over all our storm protection solutions with you and helping you find the peace of mind you're looking for … and added value you might not have expected.
---
P.S. For all the above reasons, our customers don't just feel protected with storm shutters. They really like them. (And they like Awbrey, too .. but she's ours. They can't have her!):
"We finally completed our hurricane shutters project and we wanted to tell you how much we like them. The employees we dealt with were very courteous and professional. We had more personal communication with Awbrey and she was excellent to work with. My husband runs a community bank in north Georgia and he made the comment that he needed her to work at the bank."
- Nicki