How to Choose the Right Color for Your Retractable Awnings
What color should my retractable awnings be? We get that question a lot, as our customers everywhere from St. Simon's Island, GA up the coast to Beaufort, SC naturally want to be smart about how their investment in exterior design looks.
As a homeowner, you want to make sure your residential awnings are not only a practical source of shade, but that your choice in awning colors doesn't make your home look tacky.
And for you storefront business owners, you should expect a return on your investment in commercial awnings. Awning colors should attract patrons. But poor choices can repel them.
Awning color is a big decision, so don't make it lightly! Read on for some practical tips to consider when selecting fabric for your retractable awnings.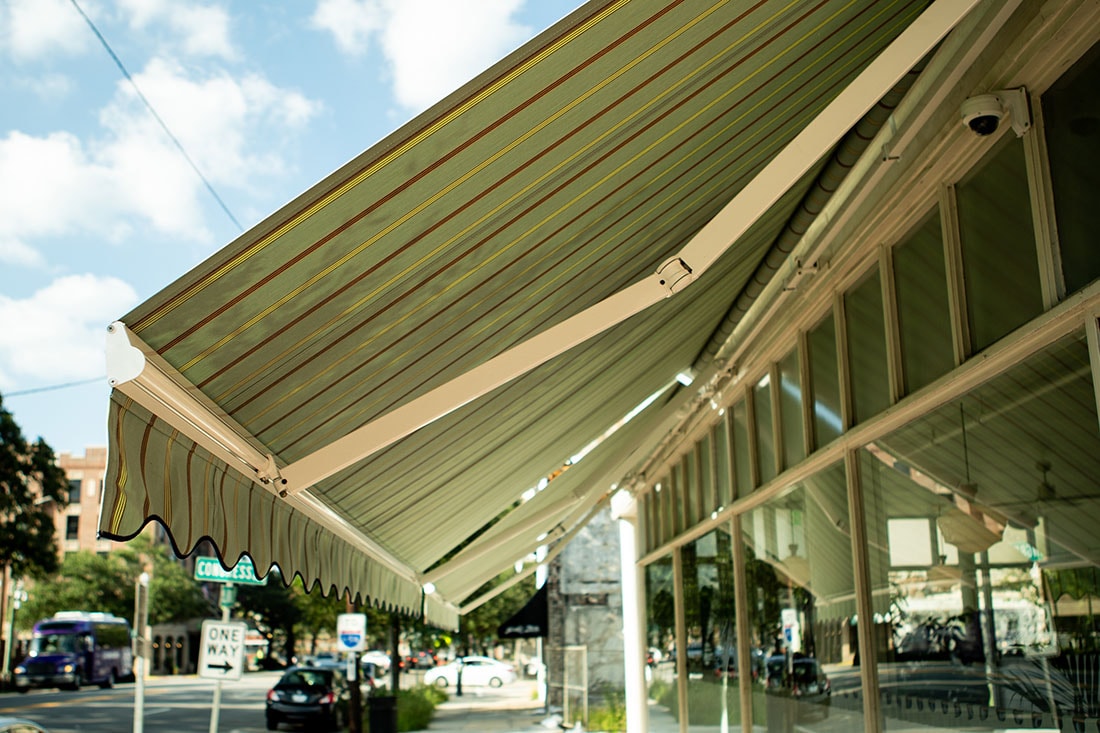 ---
What awning colors are in style in 2020?
If you serve a clientele that has a keen sense of aesthetics, it's especially important to have a sense of design trends when selecting awning color.
Pantone's Color of the Year
One broad indicator of color trend is Pantone's Color of the Year (COY), which for 2020 is Classic Blue. A look over COY colors from the last several years (a pinkish Living Coral in 2019, Ultra Violet in 2018, Greenery in 2017, etc.) gives you a family of trendy colors to choose from.
Local Design Trends
Other factors, like local design trends, may be more important to consider. Awnings come in all sorts of bright colors in historic downtown Savannah, GA for example. You wouldn't want your commercial awnings to be an understated color when everyone around you is dazzling.
What colors for retractable awnings are best for my home's architectural style?
There are a few general guidelines to consider:
If your home is of a traditional style, it's hard to go wrong with one of the favorites: forest green, navy blue and neutrals like blacks, whites, and greys.
Other colors entirely could look good on homes with a southwestern motif: in the beige or salmon families.
Striped awnings are a popular choice for cottage-style homes and colonials: reds, greens, dark blues, and other bold colors tempered by accent stripes.
For contemporary homes, you can often go with brighter colors: yellows and blues (Classic Blue, perhaps?). It really depends on the overall aesthetic you're going for.
Should I match awning colors to the color of my house, or use an accent color?
Since it's usually not feasible to get awning fabric that's the exact color of your home's exterior paint, it's better to choose an appropriate accent color than to try to match the house.
Conventional Accents
That accent may be on the conventional side. You might choose a dark brown to accent beige siding, or navy blue to accent a powder blue house.
Bold Accents
Or it might be a bold accent color. A deep red could look very striking against a white house, for example. It can also work well to match the environment rather than the siding, such as a deep blue awning over a pool deck, suggestive of water.
Bad Accents
But some color combinations just tend not to look good at all. Orange against blue, for one (unless you're advertising orange Fanta). Red on green, for another (unless it happens to be Christmas).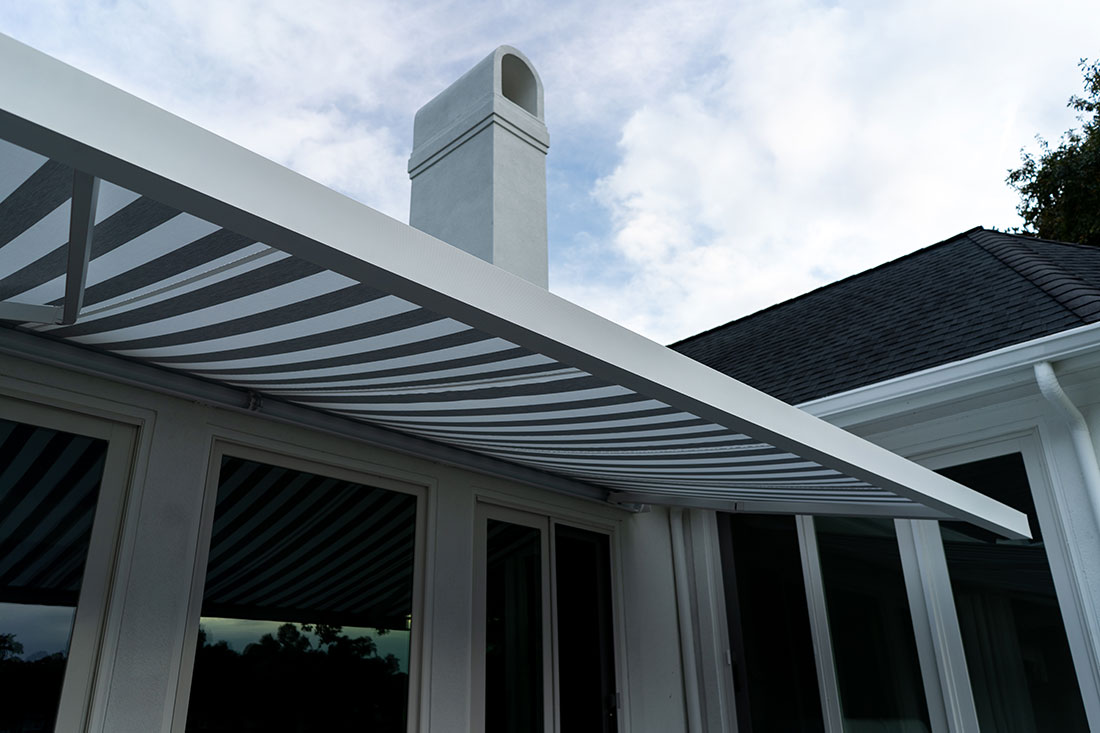 ---
What effects can the color of commercial awnings have on customer psychology?
Color can have a strong influence on human behavior. While it may be difficult to measure, your choice in retractable awning colors could make a significant difference in how likely people are to walk through your doors or move on.
RED - Food
There's a reason why so many fast food signs and logos have red in them. Red reduces analytical thinking as it produces faster and more forceful reactions. You're much more likely to buy a hamburger pictured with a red background than a green one, for example.
BLUE - Health & Wellness
As the most common favorite color around the world, blue is satisfying, comforting. It's a great color to use to give people a sense that you will take care of them. That's why it's often associated with healthcare, mental health, yoga studios, etc.
GREEN - Art & Nature
Whole Foods knew what they were doing when they made their logo green, the color that elicits a sense of trust, a purity you can only find in nature. Because it sparks curiosity, it may work well for bringing patrons into your art gallery or pottery studio, or maybe for travel agencies.
ORANGE - Bargain
If you want to give people the sense of anticipation that only comes from getting a great deal, orange may be your color. It seems to work pretty well for Payless Shoes. Maybe not the best idea if you're running a high-end shoe boutique.
Spending a little time learning about color psychology before choosing your retractable awnings could do wonders for your business.
What awning colors are less likely to fade in the sun?
Lighter colors like yellow, light blues and greens are better at resisting fading than darker colors. Red tends to fade faster than other colors.
But no matter the color, quality outdoor fabrics (which is all we'll stand for, thank you very much) should go at least five years, if not ten or more, without showing major fading. And that will be backed up by the manufacturer's warranty.
Which colors are best at hiding stains?
Black is typically the best color for hiding most stains … but you really shouldn't rely on color to mask stains. Any color awning will look bad eventually if not properly cleaned.
To preserve the color of your retractable awnings, learn how to address stains, dirt and the mildew that can grow on foreign material with regular maintenance.
There's a Lot to Selecting the Right Retractable Awnings
So let people like us - who have helped hundreds of folks like you select awnings - walk you through it.
Retractable awnings offer more than the versatility of shade when you need it, sun when you want it. The way they look also adds significant value to your home or business. And color is a big part of that.
So make the best decision. Request an estimate for retractable awnings from Coastal Canvas today!
CONTACT COASTAL CANVAS NOW