Staying at Home? 9 Ways to Make the Most of Your Outdoor Living Spaces
At the time we're publishing this, a lot of families are staying at home because of the coronavirus. But even if you're reading this long after the crisis has passed, we hope you find these tips on making use of your outdoor living spaces useful whenever spending time at home.
Outdoor living is a part of coastal life!
There's no better place to enjoy relaxing staycations than out on a Savannah-area patio.
Great outdoor living spaces are a must for hosting parties.
Time with family, whether the ones you live with or invite over, is best spent outdoors.
So is what precious little time you get to yourself.
That's why we're giving you a few ideas for how to utilize your outdoor living spaces in ways you might not have thought about before, and how to make them safer and more comfortable with residential awnings, retractable roofs, screens and porch curtains.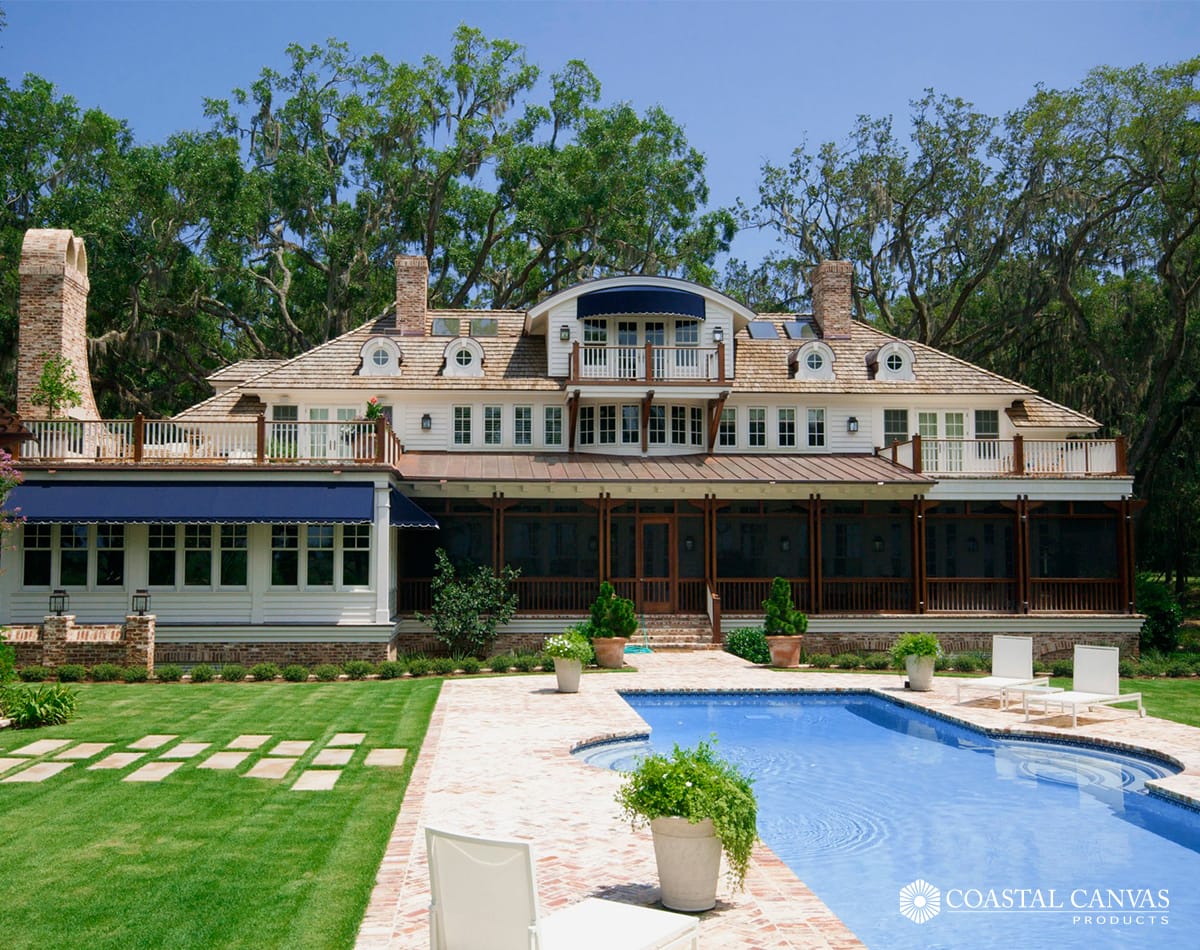 ---
1. Outdoor Theater (with Retractable Roof)
Indoor home theaters are fine, but sometimes you just want to get out under the stars and enjoy a movie in the warm night air. You'll want to set up your theater area on a flat patio surface so your projector and screen are both level, and add plenty of comfortable seating, of course.
To keep this area safe from the elements when you're not using it, you might consider installing a motorized retractable roof. That way it can still be delightfully open to the night sky above when you're using it. All it takes is the touch of a button.
2. Outdoor Kitchen (with Mesh Screens)
If you don't have an outdoor kitchen, you've probably seen them on your favorite cooking show. Cooking is so much more enjoyable when you're outside on a mild day. It's a significant investment in outdoor masonry, countertops, sinks, appliances and plumbing - but so worth it.
We know what you're thinking … what about bugs? Yes, the smell of cooking will draw all kinds of insects. That's why it's best to install durable mesh screens around your outdoor cooking area. If you prefer, they can be retractable so the area can be fully open on bug-free days.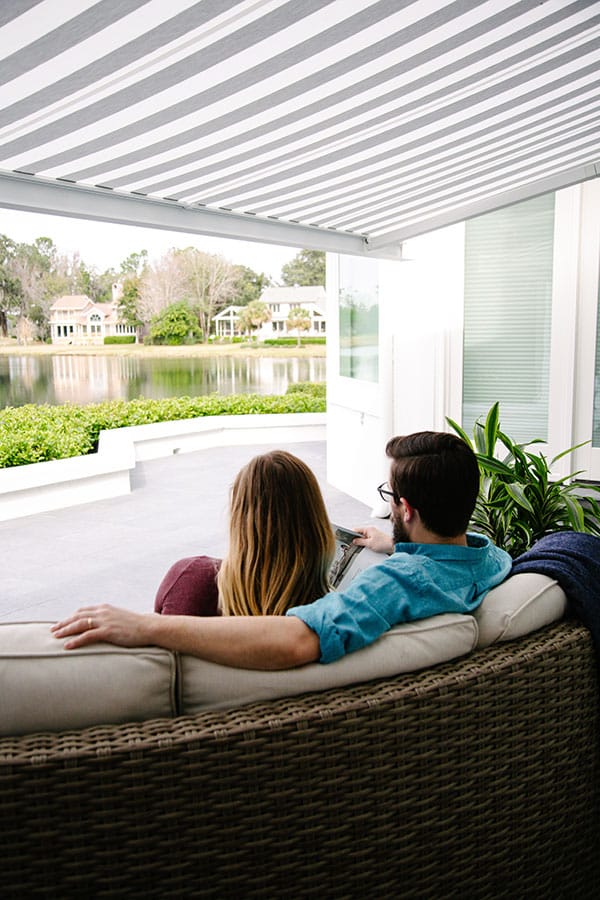 3. Open-air Dining (with Awning)
If you're going to cook outside, why not eat outside, too? Patio dining doesn't have to be limited to ho-hum plastic furniture. With some creative lighting, decorative plants and table settings, you can create a truly luxurious outdoor dining area where you'll be proud to host guests.
Of course, it's best to protect that area, both from the rain that will drench your furniture and harsh sun that will fade fabrics. That's why we recommend a canvas awning or metal canopy over the dining area. They also provide shade that makes brunch on bright days more pleasant.
4. Reading Nook (with Porch Curtains)
There are many fun approaches to the outdoor reading nook idea. It can be a raised platform with a roof overhead, a dome or clamshell with cushions, a whole porch, or just a hammock tucked into a corner, with a place to stow books. Beside a garden is a classic spot.
But one thing we think every good reading nook reads is privacy. Porch curtains - outdoor curtains in general - made with durable fabric are ideal for keeping your reading nook private and cozy. They also make it easier to read by cutting down the sun's glare.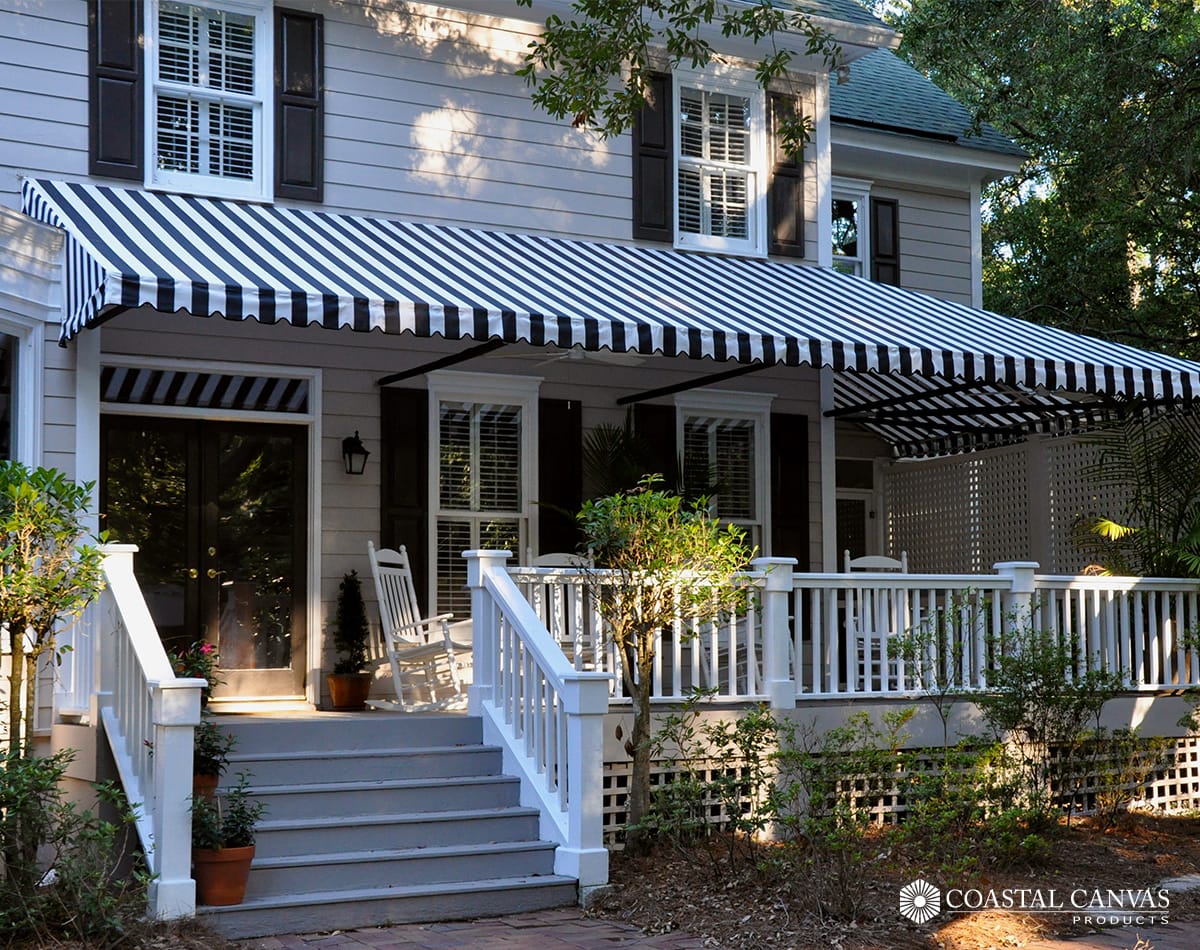 5. Meditation Corner (with Awning)
You can't enjoy your outdoor living spaces without good mental health. Meditation corners are quiet, comfortable areas where you can clear your mind of anxieties. They require little to set up - just a spot on your property as far from distraction as possible and a cushion to sit on.
It's also a good idea to have some cover overhead. If you find it difficult to meditate when the light changes as clouds move - or when squirrels pelt you with acorns - protect your peace with a small residential awning. You may also need a little decking as a base of support.
6. Fireplace or Firepit (with Mesh Screens)
Break out the marshmallows! Everybody loves a good fire to gather around. You can provide your family with this simple joy by purchasing a raised firepit for your patio, or you can make a bolder choice and incorporate an outdoor fireplace into your patio masonry work.
Either way, expect the light of the flames to bring on mosquitoes, gnats, and other annoying insects. The easiest way to keep them away is with a patio enclosure (combined with a roof or awning) made of mesh screens. They let out the smoke and keep out the bugs.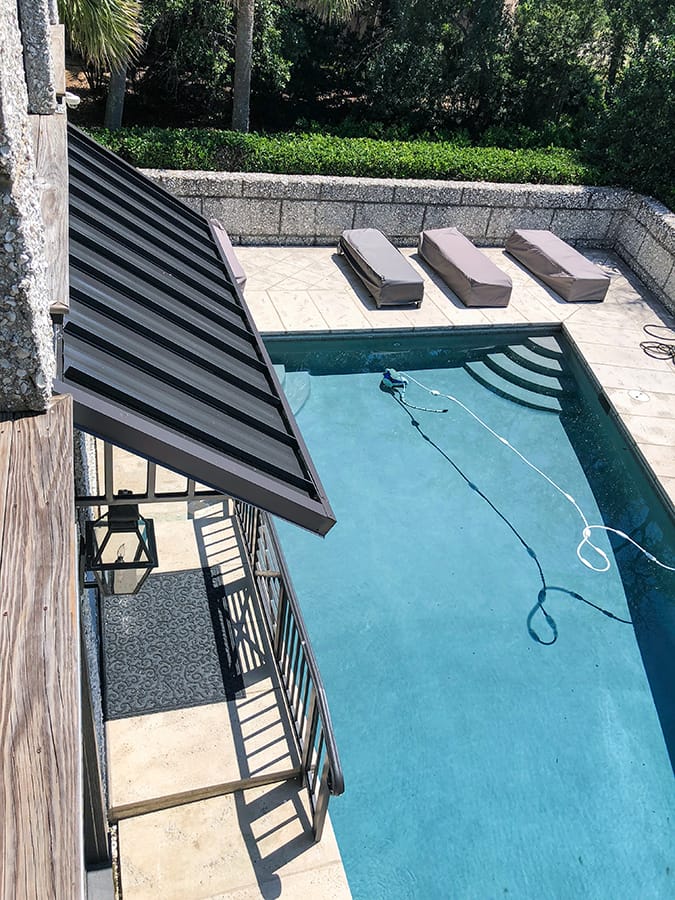 7. Outdoor Bath (with Porch Curtains)
Bathing outdoors is a luxurious experience that really puts you in touch with your natural surroundings. All you need is a porch area, a plumbed tub and a beautiful day.
Of course, privacy is a must. Porch curtains come in a variety of durable outdoor fabrics that are opaque enough to block the view of the bathing area while letting in enough light that you're not blotting out the sun. They can also be anchored to the floor so they don't blow open.
8. Play Area (with Awning
If you're home with young kids, you know getting them out the door to burn off energy is a must for their sanity and yours. A playset with swings, a slide or two, with a sandbox and maybe a kiddie pool is a great draw to keep them active.
Outdoor play areas also carry the risks associated with extended sun exposure. Installing a canvas awning, shade sails or other types of fabric structures overhead is a simple way to provide shade and make playtime for them worry-free for you.
9. Relaxation Zone (with Retractable Roof)
If you love the idea of an outdoor bathing area, reading nook, and meditation corner, but you're not sure where to put it all, combine them with a relaxation zone. Whether attached to the house or a detached structure, this spa-like "getaway" might have a hot tub as the centerpiece.
You can make the most out of this space if you design it to be convertible. That is, open to the outside air on nice days but covered and usable on rainy days as well. You can accomplish that with a motorized retractable roof combined with some type of retractable enclosure.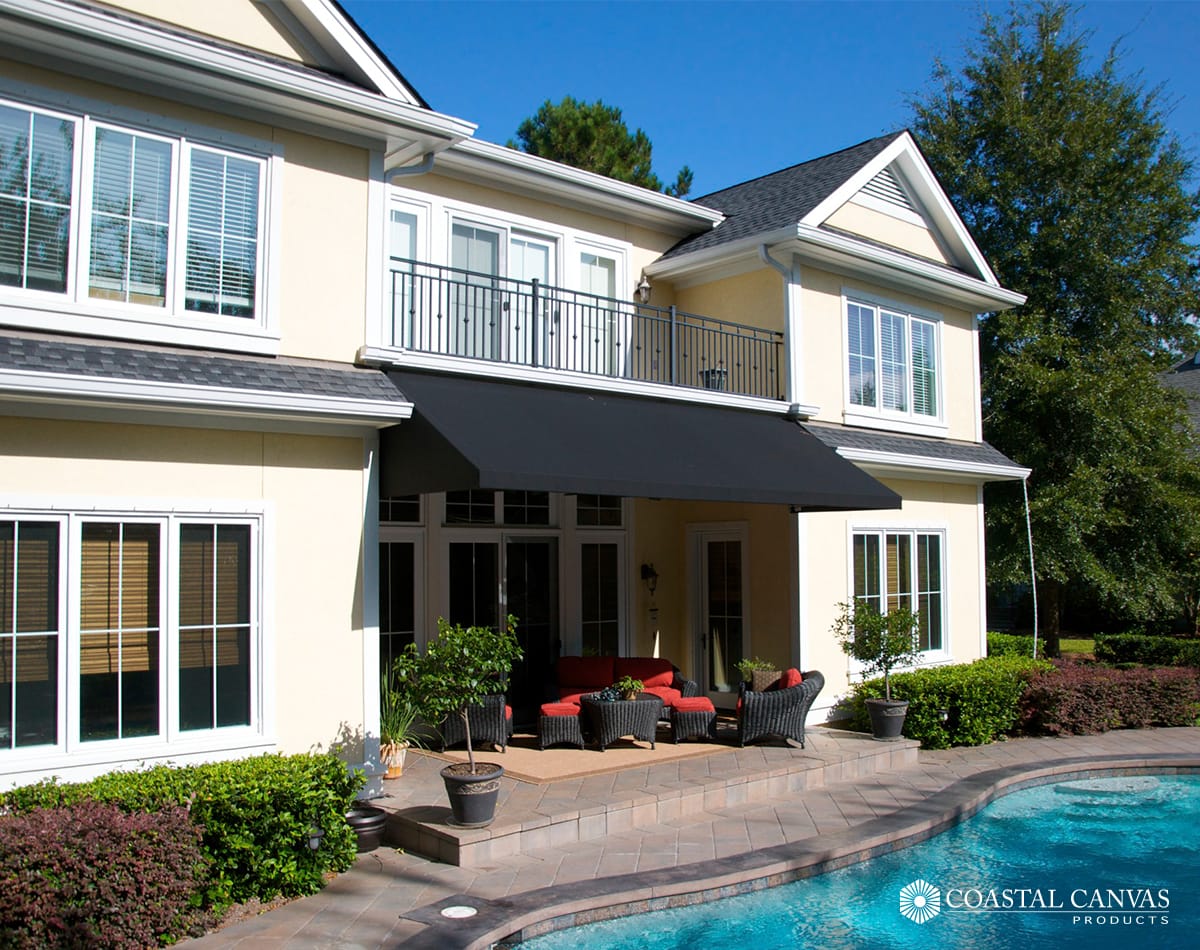 How to Get the BEST Ideas for Outdoor Living Spaces
Some of these ideas might seem perfect for your home. You might struggle to picture others on your property. So how do you get the best outdoor living spaces for you?
Ask the outdoor living experts at Coastal Canvas, of course!
We like to say we "make more than shade," because it's true. We are outdoor lifestyle consultants, working with homeowners like you to create a vision and see it through.
Once we get on your property, we might come up with half a dozen ideas beyond what's in this article. Or we'll do something in the above list but with an entirely different solution besides residential awnings, retractable roofs, screens, or porch curtains.
The point is, this is a unique experience for everyone. And we can't wait to show you what's possible in turning your home into an outdoor living paradise.
---
Coastal Canvas serves these and surrounding areas:
Savannah, GA
Hilton Head Island, SC
Bluffton, SC
Palmetto Bluff
Beaufort, SC
Richmond Hill, GA
St. Simon's Island, GA